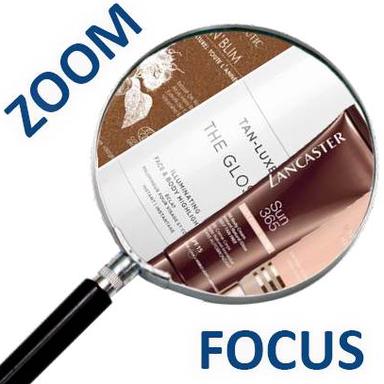 You can now practice 'fake tan' without a drop of DHA (Dihydroxyacetone), with plant or mineral pigments for both the body and face. This micro-trend already emerged last year, and it is getting even more popular among self-tan specialists this summer.
Getting your body and face tanned without DHA has been an option for a while, but this summer, creations in this field have become more sophisticated. They contain transfer-free pigments which slightly even out and leave the skin sun-kissed, creating blur and blemish-minimizing effects. If you are reluctant to use self-tanners with DHA and prefer to anticipate sunny weather with an appetizing, golden complexion, these hybrid products similar to makeup (they look like body or face BB creams) represent an alternative for usually pretty aesthetic results, without any risk of turning carrot-like or looking like a Marsupilami! Of course, you will need to renew the application every day, just like with a foundation, and these products can be easily removed with water and soap. Do not forget to leave them to dry before getting dressed and wash your hands after the application.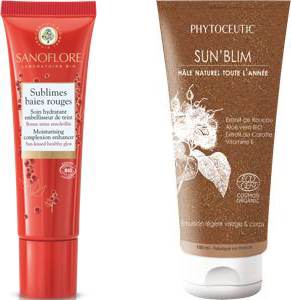 With plant pigments
The flagship pigment in this field is the Achiote extract (other names: urucum or annatto seeds, INCI: Bixa orellana seed extract), a botanical colourant concentrated in carotenoids (100 times more than in carrots!) that has been used for thousands of years by Amazon Indians. It can be contained in organic-certified skincare claimed to provide a healthy glow, like Sublimes Baies Rouges by Sanoflore (an organic moisturizer that beautifies the complexion and leaves the skin sun-kissed, Bonne mine ensoleillée, 30 ml, €21.90), which came out last year, or, this summer, Soin Joli Teint Effet Velours Bio by Apicia (50 ml, €29) and Sun'blim Face & Body Self-Tanner by Laboratoires Phytoceutic (150 ml, €16). The word 'self-tan' is confusing for the latter because it involves the presence of DHA (organic DHA does exist!). ### With mineral… or food pigments!
Last summer, Lancaster had already released Sun 365 Sun-Kissed Glow Adjustable Coloured Drops, coloured drops with caramel to be added to your daily day cream. This summer, the brand offers a body BB cream containing pigments, a tan-activating complex, and an SPF15: Sun 365 Body BB Cream Instant Natural Glow (125 ml, €30) helps fill in the time between the first sunny days and summer holidays.
Vita Liberata Advanced Organics made a foray into makeup with Illuminaze Highly-Active Complexion Veil (30 ml, €37.50, two shades) enriched in macadamia oil to cover tiny face flaws (redness, irregularities), perfect the skin, and leave it radiant.
The organic self-tan expert brand also imagined Beauty Blur Skin Tone Optimizer for the face (30 ml, €37.50, three shades), to colour, beautify, and perfect the complexion by making it look radiant (light reflectors) and create a photoshopped finish.
The Gloss Illuminating Face & Body Highlighter by Tan-Luxe (75 ml, €42) is also worth mentioning.
Self-tan expert brands now offer two alternatives: 'real' self-tanners and 'fake' self-tanners! We will need to be vigilant when we buy our own healthy-glow cream!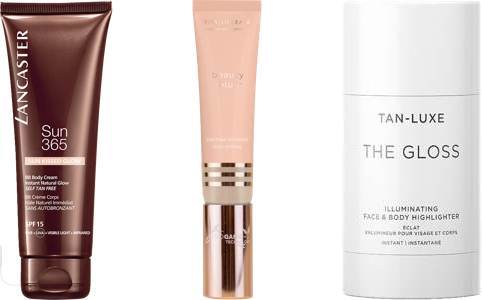 Ariane Le Febvre
© 2018- 2021 CosmeticOBS