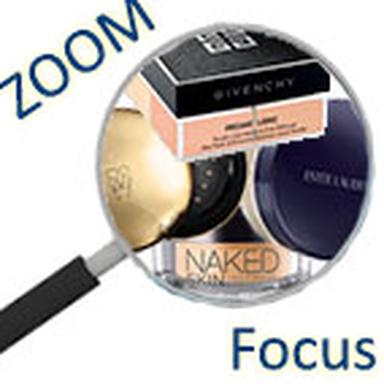 A cloud of powder is blowing on the complexion this spring. By reinventing its transparency and comfort, the brands are modernizing the most vintage of beauty products! Zoom on the cosmetic news of the week by Ariane Le Febvre.
It was thought to be outdated, part of another time, synonymous with old ladies with powdery cheeks or women who look too masked. It was criticized for drying the skin, plating the complexion or marking wrinkles… for being too light, too dark and impractical because too volatile. But now a new generation of free powders is putting it back in the spotlight. There goes the mask or plaster effect! Long live the airy and comfortable loose powder, which makes the complexion matte and ultra cared for and has no equal to fix make-up. The most natural result is obtained by using them with a large brush (Kabuki for example) and by keeping the hand light around the eyes. For a more masked result, powder on the powder puff by tapping the entire face and starting with the middle line. Then remove the excess with a large brush.
Powders that don't"powder"
Guerlain was the first to offer in 2014 these new extra-fine powders with an irresistible violet scent that velvets the complexion without freezing it (Les Voilettes Poudre Libre Transparente Mate, 47 €, 3 shades).
Really comfortable, enriched with moisturizing microbeads, the new Naked Skin Powder for a natural complexion from Urban Decay (Naked Skin Ultra Definition Loose Finishing Powder, 34 €, 5 shades, from Sephora) leaves an impeccable and semi-matte finish, while creating an optical effect that blurs defects (it contains light-reflecting pigments). Milled by jet (hence its fineness), it does not settle in wrinkles and does not dry out the skin. With it, you absolutely do not look powdery, while having a perfect complexion, it is the loose powder that is recommended for mature skin.
Equally evanescent, Estée Lauder's Loose Powder Perfect Complexion (39 €, 3 shades) with a silky touch (thanks to a high concentration of spherical silicas), reduces and refines the appearance of pores. A mixture of particles of unique shapes and sizes allows it to smooth the surface of the skin, for an instant distribution and covering effect. The high concentration of silica in the formula also ensures optimal and long-lasting gloss control. Enriched in golden mica (and not white, which can give a chalky appearance to the complexion), it adapts to the complexion and unifies in a very natural way.
Dr Pierre Ricaud proposes in turn Ready to Powder Cloud of powder velvety finish (30 €,), a mineral loose powder in a single transparent shade. As for M.A.C Cosmetics, its free powders work on the traces of CC creams, correcting the color of the skin, such as the hue Illuminate a lavender purple that gives shine, or shade Recharge Apricot healthy glow (Free Correcting Powder CC Prep+Prime M.A.C Cosmetics, 28 €, 4 tones).
High-Tech in the boudoir…
Two powders if nothing, it is the bet of Nicolas Degennes, artistic director make-up and colors of Givenchy, who also decided to give the free powder to the honor (First Powder, Free Powder Matte and Transparency Givenchy, 47 €, only one hue Prisme Libre, Free Powder Matte and Enhanced Radiance, 47 €, 4 harmonies, from May 26). Both powders use atomization technology, which means that the powder grains are ground as finely as atoms. Easy to live with, Poudre Première appears white in its black box but does not bleach the complexion, unlike some other high definition white powders. Its universal hue (which can be worn on bare skin without false notes) merges with all skin tones, from the lightest to the most matte. In fact, it brings no color but a transparent veil which nimbe the face of a matt and luminous halo. Prisme Libre, on the other hand, combines 4 shades in a single case, to reproduce the most lively shades and create custom harmonies, in shades nude The first tannings are illuminated by a particularly original one (the harmony Organza Caramel N°3 which mixes cream, peach and cappucino tones). This powder is used according to the"shake and mix" technique: the cover is unscrewed, the case is turned over while holding the powder puff on the sieve, the powder is shaken and applied to the skin.
Makeup that makes you feel good?
Relatively harmless and most of the time well tolerated, the free powder has essentially mineral composition (talc, silica, mica…). Its main ingredient remains talc, always a little drying. It is it which mattifies and absorbs shine, more and more often accompanied by silica. The latter increases the transparency of the make-up result. There are of course also colouring pigments and few preservatives, the formula being anhydrous (without water). The feeling of comfort can be obtained by different silicones with a silky and slippery effect or various emollient substances. Antioxidants such as vitamin E are still found. But what has changed most are the techniques of grinding powder particles, which are no longer micronisation, but atomisation. Hence their extreme finesse, at the origin of the imperceptibility of these new powders. The grain size and shape of the pigments are important. When they are the same size, they slide evenly and give a soft sensation, as well as an ultra-natural make-up result.
The Observatory of Cosmetics
© 2014- 2022 CosmeticOBS