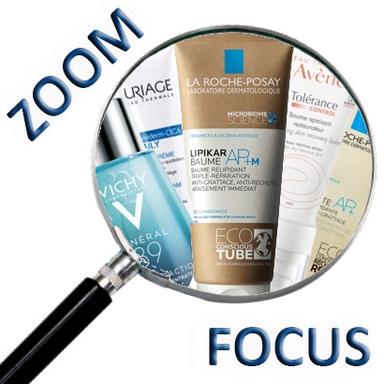 It's this spring's winning combo! Thermal water brands are creating prebiotics or postbiotics from the unique microbiome of their thermal water. Or, accompany their thermal water with prebiotics or probiotic fractions. What's in it for you? Strengthening the skin's self-defense, a boon for all skin types, especially sensitive ones.
Prebiotics and postbiotics grown in thermal waters…
La Roche-Posay and Avène were among the first to discover bacteria that exist only in their thermal waters.
The first developed Aqua Posae Filiformis, an active ingredient derived from the Vitreoscillar Filiformis bacteria cultivated in a medium containing La Roche-Posay thermal spring water (26 years of research, 34 patents).
This prebiotic rebalances the cutaneous microbiome by stimulating the expression of cutaneous antimicrobial peptides (defensins) by keratinocytes and reduces the proliferation of undesirable cutaneous microbial flora. It thus reduces the severity and frequency of inflammatory attacks in atopic subjects.
Aqua Posae Filiformis is now present not only in the iconic product of the Lipikar range dedicated to dry to very dry skin, prone to atopic eczema, the AP+M Balm, which is now available in a more ecological tube made of cardboard (200 ml, €16.40), but also in washing care products (Lipikar AP+ Washing Oil and Lipikar Syndet AP+, in eco-refill 400 ml, €11.90).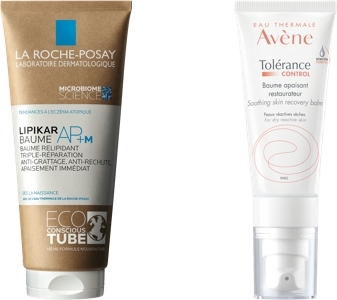 It is the turn of Eau Thermale Avène to create in Sterile Cosmetics the Tolerance Control line which is aimed at reactive skin and contains a new postbiotic derived from a bacterium only present in its thermal water (Aquaphilus dolomiae): D-Sensinose™ (Restorative Soothing Cream, 40 ml, €18.43; Restorative Soothing Balm, 40 ml, €18.43; Gelled Cleansing Lotion, 200 ml €8.73 or 400 ml, €10.10).
How do you manage to extract an active ingredient from a bacterium? The Aquaphilus dolomiae bacterium is cultured in bioreactors. The optimization of the culture and extraction conditions allows to concentrate on one side the biomolecules excreted by the bacteria (they are the ones that give rise to the active C+-Restore™ present in the Cicalfate+ range) and on the other side the biomolecules trapped inside the biomass.
Thus Pierre Fabre's flagship brand managed to extract all the inner richness of Aquaphilus dolomiae to create D-Sensinose™. From the same culture, it was able to obtain two post-biotic active ingredients, a technological feat but also an eco-responsible breakthrough, a new ecological concept of bioproduction of active ingredients for dermo-cosmetic products.
This third generation of postbiotics is able to act directly on the sensory neurons present in the skin to control all skin hypersensitivities. D-Sensinose™ modulates the transmission of the sensory message at the level of the sensory neuron. The calming effect is immediate on all stimuli and all skin sensations.
… or thermal waters enriched with probiotics
Other brands prove to be microbiome friendly by associating prebiotics or probiotics with their thermal waters.
This is the case of Uriage, which has just launched Bariéderm-Cica Daily, a new range of daily hydra-repairing care products with prebiotics (Serum, 30 ml, €30.90 and Gel-cream, 40 ml, €19.90).
Both contain (among others) 10.5% Thermal-Biotic complex based on Uriage Thermal Spring Water and prebiotics (including inulin, extracted from chicory root and agave) to repair skin and microbial barriers.
These universal formulas limit the proliferation of bacteria and protect the epidermis by ensuring its proper balance.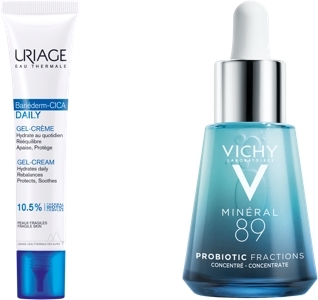 Same topo for Vichy with Mineral 89 Probiotic Fractions, Protective & Recovery Concentrate (30 ml, 30 €, from April).
Enriched with probiotic fractions associated with a high concentration of Vichy mineralizing volcanic water and anti-oxidant vitamins, it increases the primary cutaneous immune defenses and strengthens the skin barrier.
Ideal for stressed skin (stress weakening the skin's defenses), these probiotic fractions are an excellent way to maintain healthy skin.
Ariane Le Febvre
© 2021 CosmeticOBS