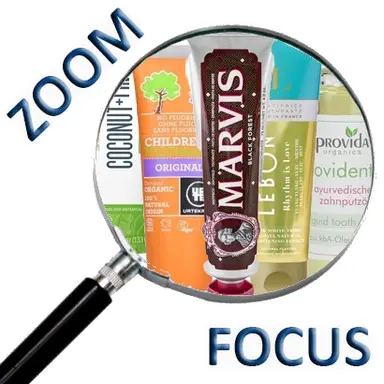 New ranges with new flavours are emerging. Especially popular in Anglo-Saxon countries, spicy, fruity or even gourmet aromas are coming to France. While French toothpastes prefer floral aromas, Grasse is the best choice! However, there is still no question of totally ousting the mint, but it plays the secondary role. And the packagings also change. Surprisingly, they reveal a more luxurious image. Toothpastes have never been so cosmetic!
Apart from the traditional strawberry toothpastes to make children want to brush their teeth, there was not much new in this field until now. But things are changing… Here, as in everything else, surprise is de rigueur.
The flavourists have done a good job and the result, while it can be disconcerting for some, turns daily brushing into a fun sensory experience. You're never going to be in such a hurry to brush your teeth !
The dessert time
Marvis (an Italian company, contrary to what its Anglo-Saxon name might suggest) has been offering luxury toothpastes since 1958 in retro and colourful packaging with a furiously "vintage" look that cannot be ignored in pharmacies!
The brand imagines original "collections" (indeed, toothpastes also offer collections, like luxury products, and no longer simple "ranges"!) with audacious tastes that combine the everlasting mint, anise, cinnamon, jasmine, liquorice or ginger. Among the latest creations, we find aromas of black forest (Black Forest Mint Cherry Chocolate Toothpaste), rhubarb pie (Sweet and Sour Rhubarb Toothpaste) or orange blossom (Orange Blossom Bloom Toothpaste, 75 ml, €9.80 each).
Or an exotic collection called Wonders of The World, to discover unusual flavours such as Rambas (mint-pineapple-mango), Royal (mint-mandarin-pink) or Karakum (mint-cardamone).
Most toothpastes are also available in travel sizes (25 ml) or ultra mini (10 ml).
Enzyme formulas and perfumes developed in Grasse
Lebon is a French brand (distributed by Oh My Cream) which also offers audacious and natural flavours of ylang ylang, orange blossom, rose, yuzu, blackcurrant, papaya, pineapple (nine in total)… made by Grasse's perfume makers. While surprising, the flavours are delicate and not always associated with mint. This is the case with Sweet Extravagance Toothpaste with orange blossom and rose (25 ml, €9 or 75 ml, €18,50).
Without being certified organic, the formulas are "vegan", they all contain extracts of green tea and Aloe Vera and are sweetened with stevia. Guaranteed free of sulphates, gluten, artificial colours, fluoride, triclosan or titanium dioxide (the latter is currently in the spotlight in food products and toothpastes can be totally or partially ingested), they use organic ingredients and PEFC certified cardboard packaging.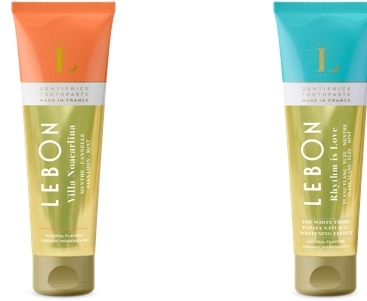 The whitening toothpaste contains papaya enzymes to gently remove dental plaque and help brighten teeth by respecting the enamel ( The White Toothpaste, 25 ml, €11 or 75 ml, €21,50). In the same spirit of "clean beauty" and delicate aromas, we can also mention Schmidt's Coconut and Lime Toothpaste (100 ml, €7.95).
Certified organic and vegan toothpastes take the lion's share
There are also some unique flavours such as :
• Fennel from the Danish brand Urtekram, distributed in the Franprix (Toothpaste Original, 75 ml, €3.99)
• Bjobj's star anise (Toothpaste star Anise and Thyme , 75 ml, €5.39),
• Tea Natura sage (Toothpaste Clay and Sage, 75 ml, €4.49)
• Oralcare Kart thyme or eucalyptus (75 ml, €7.79)
• Fitocose clarifying myrrh (75 ml, €6.39), or Jack N Jill's blackcurrant (Blackcurrant toothpaste for children and adults, 75 ml, €6.29), only to mention the latest ones.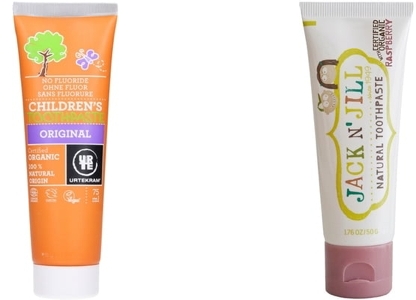 And let's not forget ayurvedic sesame oil toothpastes (Provida Organics Provident Liquid Oil Toothpaste, 30 ml, €6.49), or as a cinnamon-flavoured powder (Lamazuna Solid Toothpaste, 20 g, 9.99 €; Ben & Anna powder toothpaste, 45 g, €9.99), with equally original flavours!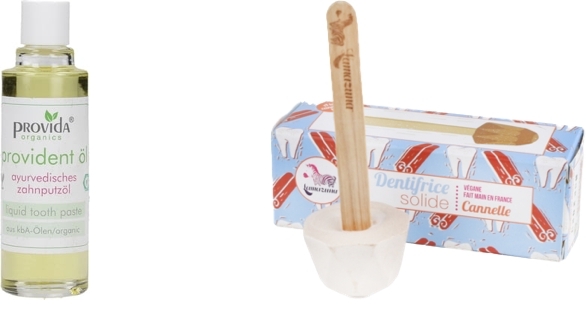 Ariane Le Febvre
© 2019- 2022 CosmeticOBS