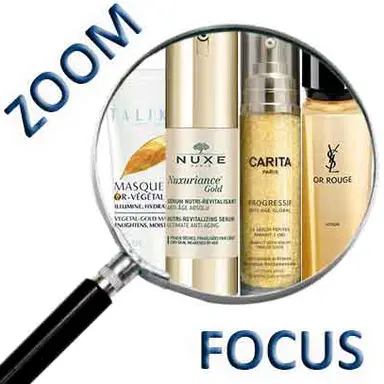 If gold care is classic at this time of year, gold is changing course. It is no longer limited to gold leaf masks or celebrations but becomes vegetal and clearly anti-ageing, with recent discoveries on the regenerating power of saffron flower. Due to its naturalness, these "skin care and light" products announce the advent of a new generation of sprinkling creams…
Red gold, plant gold, anti-ageing gold…
Carrying a luxurious symbolism that always makes you dream, gold skincare no longer simply enchant your complexion for New Year's Eve, but attacks the youthfulness of your face.
They are more suitable for mature skin (which also has a higher purchasing power!), such as the new Yves Saint Laurent Global Exceptional Red Gold Care range, which has just been launched (La Crème Fine or La Crème Riche, 50 ml, €340 - Refill: €310 ; La Crème Regard, 15 ml, €170; La Lotion, 150 ml, €129).
It highlights the exceptionally regenerating powers of Moroccan saffron flower, whose pistil contains a super sugar (crocine) that modulates inflammation, reactivates youth and the skin's internal antioxidant power.
Due to the composition and quality of the Atlas soil, Moroccan saffron flower is richer in crocine than any other.
Even rarer than gold, it only opens one morning a year and must be picked at this precise moment to capture all its benefits. Thanks to a new high-precision distillation process (crocine is heat-sensitive), YSL Beauté's research has created a more powerful saffron distillate, which contains 20% more crocine, as well as another component never extracted before: crocetine.
Last but not least, the brand has created a beauty garden in the Ourika Valley (at the gateway to the Atlas Mountains), cultivated by women, all certified sustainable and socially responsible.
Finally, the packaging is recyclable (the paper and cardboard used come from 100% sustainable forests) and the pots refillable.
The L'Oréal group firmly believes in the power of saffron, which is already found in Carita's Global Progressive Anti-Aging range and particularly in the 3 Ors Perfect Serum (40 ml, €275).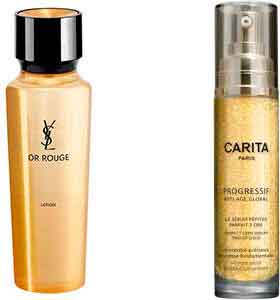 Saffron flower, the new "red gold"
Nuxe also plays on the magic of gold in its new Nuxuriance® Gold - Anti Age Absolute line, which will be launched in January (Nutri-Revitalizing Serum, 30 ml, €65; Nutri-Fortifying Cream-Oil, 50 ml, €59; Nutri-Fortifying Night Balm, 50 ml, €59, Baume Regard Lumière, 15 ml, €46).
It uses the bi-flower cells of saffron and bougainvillea (Nuxe patent), combined with an oleoactive® of porcelain rose, to redensify, nourish and revitalize dry skin, weakened by age.
The four treatments are packaged in eco-designed glass jars. They concentrate more than 92% of ingredients of natural origin in the heart of textures infused with golden micro-reflectors that give the complexion a warm halo.
A shamanic mask…
No more gold leaf masks, make way for plant gold with Talika's Gold Plant Mask (30 ml, €19.90).
Derived from shamanic secrets, it provides immediate skin illumination and intense skin hydration.
Here it is the gingko biloba, the tree with forty ecus, which plays the main role.
Its leaves, rich in flavonoids, reveal their antioxidant and anti-aging properties.
Its all-gold colour and precious texture with the bewitching scent of tiare transform the application into a unique sensory experience.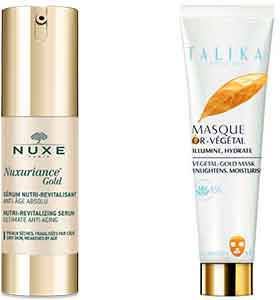 A new treasure dedicated to the gaze
Hormeta has created the Eye Contour Re-Generation Balm (15 ml, €98) in the Horme™ Gold line, which combines gold, the power of trace elements and the pleasure of surprising textures, for mature and/or very dry skin.
In addition to the exclusive Oligocos-5 complex found in all the products in this line, this new treatment contains a "3D effect" biomimetic peptide that reduces the appearance of superficial wrinkles, a peony extract that corrects skin sagging and 22.9-carat gold powder to give radiance and perfect the beauty of the eye area.
Ariane Le Febvre
© 2018- 2022 CosmeticOBS