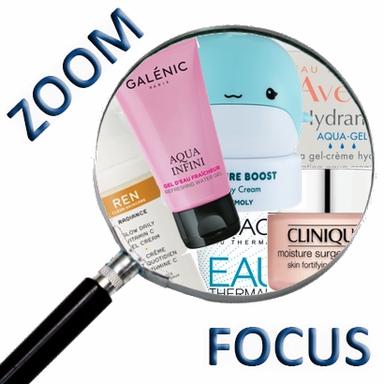 Ultra-sensory, they immerse the skin in a bath of freshness and hydration. These typically Asian textures are flooding the Select and Pharmaceutical markets this summer. And of course, the brands of thermal water are in the front row to offer this type of treatment….
When applied, these textures (often cream gels) called "quick break" break in water on the skin, deploying a wave of freshness. Combining the freshness of a gel and the comfort of a cream, water creams have everything to seduce us on sunny days.
Born in Japan, mother country of this "liquid care" movement, they had already made a breakthrough last summer, but this year it is a real deluge!
Eye catching care in perfume stores
In the wake of Clinique's Aqua Source range from Biotherm or Moisture Surge™ - the two major references of its kind - here are Hydra Beauty Camellia Water Cream, Chanel's Illuminating Moisturizing Fluid, enriched with camellia floral water (30 ml, €54) or Calendula Serum-Infused Water Cream, Kiehl's Calendula infused water serum cream (50 ml : €48, 28 ml: €33, 100 ml: €88) which benefits from the highest concentration of calendula flower extract, a star ingredient of the brand, in a perfect hybrid texture: a cream gel that "wraps" the calendula serum concentrated in the aqueous phase of the formula.

At Sephora, creations of this kind abound: Peace Water Intense Fresh Moisturizing Gel for Caolion Day (50 ml, €25), Mega-Mushroom HydraQuenching Gel for Origins (30 ml, €39.50), Tony Molly Moisturizing and Refreshing Day Gel-Cream (50 ml, €23), very "eye catching" with its whale shaped conditioning!
Other products in Esthederm's Cellular Water range include the Fresh Moisturizing Gel (40 ml, €28), a sorbet gel that quenches thirst without shining, or the Ren Skincare Radiance Vitamin C Daily Radiance Gel-Cream (50 ml, €43).
Still in this "cosmetic water" trend, the texture of Dior's Hydra Life Energizing Moisturizing Sorbet Mist (100 ml, €35.50) is not liquid as one might think. It is the first emulsified gel fragmented into microdroplets which, in addition, benefits from a recent discovery by Dior Research: the skin needs to be hydrated all day long so that the skin microbiota can develop and ensure its essential role in the hydrolipidic balance. Hence the interest of this packaging that can be drawn at any time….
Sensitive materials in pharmacies…
Thermal water brands compete with each other in creativity in formulations. Uriage dedicates a complete line called "Thermal Water" to this fresh hydration.
Among the latest innovations: the Water Jelly (40 ml, €14.70) a gel as transparent as water for normal to combination skin. SensiBiafine innovates with an ultra-soft, shape-memory texture (Moisturizing Moisturizing Facial Gel-Cream, Fresh Effect, 50 ml, €15.90).
La Chênaie adds an anti-pollution action to hydration, with an "invisible second skin texture that protects the skin from atmospheric and domestic pollution" (Ultra-Hydrating Water Care Gel with Petrasève, 50 ml, €35).
Among the certified organic brands, let's mention again the Thermal Gel of Aloe Vera Bio REhydrate at Eau Thermale Jonzac (150 ml, €12.95), or the Fresh Moisturizing Gel with organic Aloe Vera sap & organic coconut water from Natessance (50 ml, €12.50).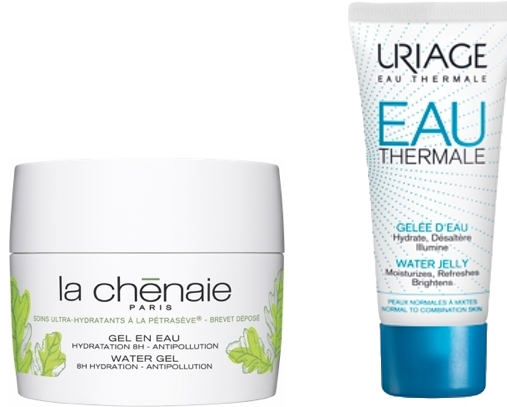 But it is above all the brands of the Pierre Fabre Group that stand out with their summer creations, whose formulas were developed in Japan. The textures depict a 3D mesh of assets that creates a gelled network where the assets are captured. In contact with the skin and under the pressure of the application, the mesh of active ingredients breaks down and releases its precious content.
Galénic imagines Aqua Infini Fresh Water Gel (50 ml, €30), a gel that melts into tiny water droplets and really gives the impression of depositing water on the skin!
And Avène launches Hydrance Aqua-Gel (50 ml, €18.70), a treatment that contains 75% Avène thermal water and offers a real recharge of water as well as an intense fresh bath for all sensitive skin. This "Swiss Army Knife" treatment can be used as a daytime treatment, as an eye contour treatment or as a night mask.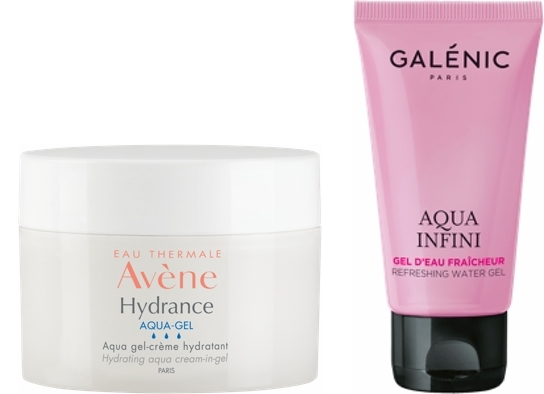 Ariane Le Febvre
© 2019- 2021 CosmeticOBS