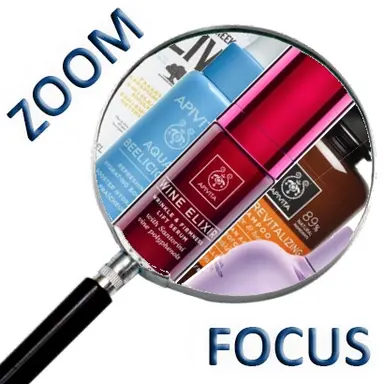 While waiting to be able to return to its paradise islands, we adopt its products with an irreproachable CSR commitment, which bloom well in the scrubland and give us a foretaste of holidays. Never one step behind a trend, greek cosmetics are conquering France. This concentrate of Mediterranean beauty that takes us on board without taking us out of the country has every chance of seducing us!
No wonder Greece inspires beauty. The very term cosmetics is of Greek origin and Ancient Greece has left us many beauty secrets… The ingredients of the Mediterranean (olive oil, yoghurt, honey, almonds, pomegranate, mastic, herbs, spices and resins from the maquis such as cistus…) find here all their legitimacy, all the more so as Greece has 1200 endemic plant species.
Apothecary brands such as Korres are already well established in France.
Apivita, launched in 2020, hopes to follow the same path, but we can mention more confidential firms such as Aphrodite, which since 1989 has been developing face and body treatments with organic extra virgin olive oil from Crete and donkey's milk (Anti-wrinkle & anti-pollution serum, 30 ml, €34,90 ; Day Cream, 50 ml, €32.90), Mastic Spa which has created its range of cosmetic products based on mastic, the fruit of the mastic tree (Liftosome Cream with mastic and spring water, 50 ml, €39.60), or Olivie (Intense Moisturizing Cream 24H with organic Aloe vera and olive oil, 50 ml, €20.50).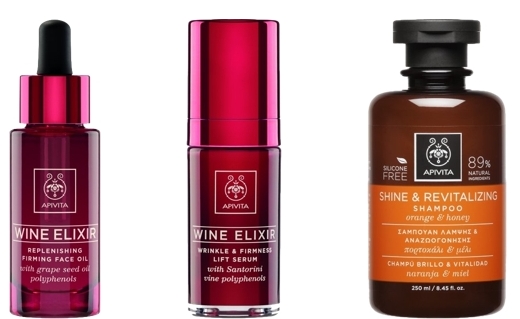 An opportunistic cosmetic with a high potential for sympathy
Greek cosmetics knows how to surf on all the current trends (naturalness, locavore, clean beauty, microbiome, "Mediterranean diet", super food…), while highlighting its own treasures, witness the latest Hydra-Biome™ range from Korres (the most famous Greek cosmetics brand) with edible Greek yogurt, enriched with an extra dose of probiotics whose microbiome friendly formulas are particularly successful (Foaming Cleansing Cream, 150 ml, €15.90 ; Comforting Face Serum, 30 ml, €34,90 ; Face Mask Super dosed with probiotics, 100 ml, €34,90 ; Intense Comfort Moisturizing Cream, 40 ml, €31).
In 2003, the company had already created an After-Sun Cooling Gel based on this illustrious yoghurt, which is ideal for calming and rehydrating skin that has been warmed by the sun.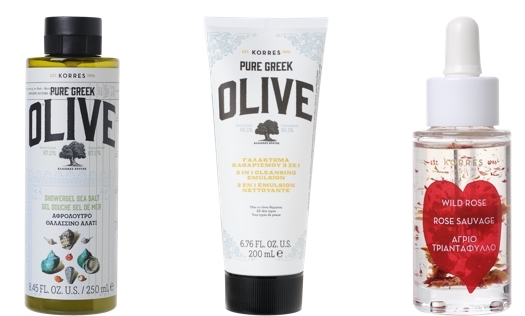 Other emblematic ranges, in addition to the ubiquitous olive oil, the anti-ageing golden saffron (traditionally harvested in Kozani, northern Greece), rich in crocine, a powerful antioxidant, the wild rose combined with vitamin C, prickly pear and pomegranate (among the latest novelties to be released this summer: Pomegranate or Prickly Pear Shower Gels, 250 ml, €8.90, accompanied by their Body Milks, 200 ml, €13.90).
The brand has also made a name for itself with its striking graphics and attractive packaging with photos of ingredients.
Born in 1996 in the first homeopathic pharmacy in Athens, it was created by Georges Korres, a pharmacist.
In France, it has its own shop in Paris and its French e-shop, is very present in Monoprix, pharmacies and parapharmacies, as well as at Marionnaud.
The products combine naturalness (collaboration with local organic farming cooperatives), sustainable development and innovation (university partnership with the Faculty of Pharmacy of Athens).
They cover absolutely the entire spectrum of beauty, from sunscreens to capillaries, make-up, face and body care, and even fragrances.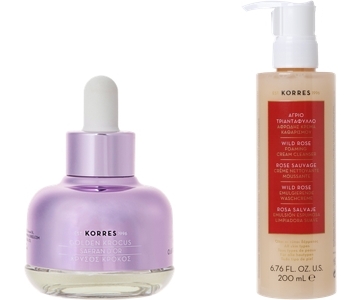 Unspoiled nature
It is one of the strengths of Greek cosmetics with its "reasonable" exoticism.
It is both close to us and makes us travel without going too far, which can make a difference when it comes to buying.
Apivita (which means "the life of the bees") understood this perfectly when it set out to conquer France in 2020 (the products are currently distributed in pharmacies, waiting for the e-shop in 2021).
His natural beauty care (face, body and hair) was born from bees in the beehive of Greek nature and "augmented" by science.
The brand, subtitled "Pollinate Beauty" was also created by two Greek pharmacists. Deeply locavore, it uses beekeeping ingredients (honey, propolis, royal jelly…) and plants from the Greek soil, with the utmost respect for the environment and people.
All formulas contain 85-100% naturally sourced ingredients with no controversial ingredients.
Apivita encourages gentle beekeeping practices and harvests only 40% of the fruit from its hives, leaving 60% available for the bees. Production is done without pesticides, antibiotics or chemical residues (exclusive use of essential oils and natural extracts).
The brand partners with hand-picked local beekeepers and invests heavily in educating the younger generation about the importance of bees and their role in safeguarding nature and humanity.
The cultivation and harvesting of raw materials (always traceable and renewable) is done using ethical, low carbon footprint techniques.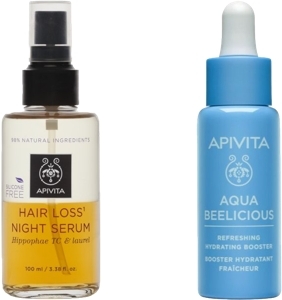 All products are certified cruelty free and all packaging is recyclable and/or recycled. It is also the first and only Greek company to have obtained the B Corp certification, thanks to numerous ecological and social actions implemented within the company itself.
Here again, you will find many trendy products, such as Black Detox Cleansing Jelly with activated carbon and propolis (Black Detox Cleansing Jelly, Black Cleansing Gel for Face & Eyes, 150 ml, €14), Express Beauty "Mediterranean Beauty Food" single-dose masks for the face or hair (Purifying Face Mask with Propolis, Moisturizing and Nourishing Face Mask with Honey, Deep Cleansing Green Clay Face Mask, Moisturizing Hair Mask with Hyaluronic Acid… from 3,10 to €5,90 each), a global anti-ageing line with Greek royal jelly liposomes for women over 45 years old : Queen Bee (Holistic Anti-Aging Cream, 50 ml, €79,90; Holistic Anti-Aging Eye Contour Care, 15 ml, 49,90 €), or Wine Elixir Wrinkles & Firmness with Santorini Vine Polyphenols and Propolis (Wrinkles & Firmness Lift Serum, 30 ml, €38,50; Firmness Plumping Face Oil, 30 ml, €33,90). The capillary range is very extensive, with night serums (100 ml, 32,80 €), or a rescue oil (Nourishing and Repairing Hair Oil, 100 ml, €21,90).
Among the latest novelties, the moisturizing line nicely named Aqua Beelicious (Flower & Honey Fresh Moisturizing Booster, 30 ml, €22.90; Non-Greasy Moisturizing Cream Gel or Comfort Moisturizing Cream, 40 ml, €19.90 each).
Ariane Le Febvre
© 2020- 2022 CosmeticOBS