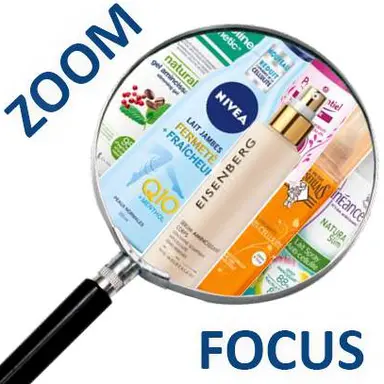 It is the start of the slimming season! The 2018 vintage offers few real innovations, but does confirm major trends: naturalness, sensoriality, and multi-functionality (slimming, of course, but also moisturizing, firming, anti-stretch marks…). Double-use helps justify the purchase of a technical product that is still quite expensive, especially in the selective network.
As we said in a previous Focus On post, slimming products are not really on a roll these days, especially in the selective network (it should be said that prices have soared up!). In 2018, it seems the market feels a bit dispirited and only confirms ideas already emphasized in 2017.
Major slimming players like Clarins have decided not to release any new product (the brand is content with the Body Fit Anti-Cellulite Contouring Expert, in a more generous capacity: 400 ml, €81).
No new launch either for the L'Oréal Group (L'Oréal Paris, Garnier…), and Vichy have gone as far as removing their slimming product (Cellu Destock Overnight) from the market.
Still, there is a bit of innovation, especially in pharmacies, with historic slimming brands like Somatoline Cosmetic and Elancyl;
In addition, there are newcomers in this real growth-driving and legitimate distribution channel, like Filorga, who 'sidestep the issue' by launching an anti-aging slimming product in a jar (Daily Nutri-Refining Balm, 200 ml, €39.90). It acts on nodes of fat and rebellious curves, but also on sagging and nutrition, with a generous quantity of sculpting plant-derived actives, like purple loose-strife flower, used for the first time in cosmetics.
Algae in the spotlight
The brands that best play the game are marine cosmetics brands. It should be said that algae are particularly justified to drain tissues. So that is where you will find most innovations.
At the top, there is 40-year slimming expert Phytomer, who have imagined Celluli Night Coach Sleeping Intensive Cellulite Sleeping Mask (150 ml, €65). This 'Red-Bull Like' formula based on marine taurine and extracted from red algae (much better assimilated than synthetic taurine, according to the brand) offers continuous, forceful adipocyte coaching overnight (the ATP synthesis rises by 14%). Hyper-stimulated, mitochondria produce even more ATP, which boosts the adipocyte activity and fat elimination. The action of this exclusive active is intensified by pink pepper oil, a cocktail of red and brown algae, and natural caffeine (extracted from coffee beans, it is obtained with a supercritical CO2 extraction process). The gelled, melting 'sleeping mask' texture acts incognito, but with intensive impregnation.
Same type of action (stimulating adipocytes to release fat and benefit from the effects of sport) with Algotherm and the Algo Silhouette Global Contouring Serum (100 ml, €38.80).
As for Thalgo, they created Complete Cellulite Corrector (200 ml, €45), which both smooths the skin surface and slims down the silhouette.
Lastly, it is worth mentioning Gel Frais Amincissant Ultra-Intensif 7 Nuits by Somatoline Cosmetic (7-night intensive slimming fresh gel, 400 ml, €44.90), based on marine salts and anti-fat accumulation brown alga (Sphacelaria Scoparia), and intended for people looking for express results.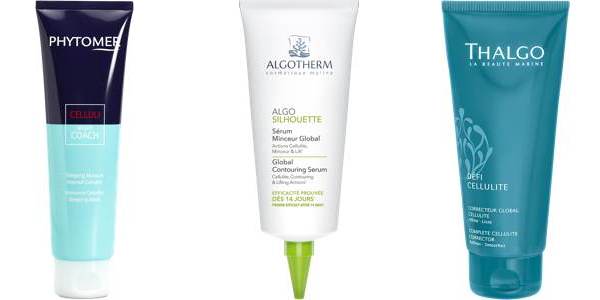 Slimming products with several actions
First, there is the Elancyl Slim Design™ Cellulite/Stretch Marks Slimming Oil (150 ml, €19), with its bi-phase texture, which acts on the orange peel effect and stretch marks, but also on silhouette sagging. In the aqueous phase, caffeine and ivy are used to drain and remove fats. In the oily phase, camelina oil lightens the appearance and enhances the correction of stretch marks.
Let's also mention the Elancyl Slim Massage Coach, a tool which reproduces the massage and rolling action with a non-connected (€35) or connected version (€80). The latter is fitted with a luminous diode which instantaneously indicates whether you are using the right gesture or not.
Eisenberg are involved in the same fight against sagging and stretch marks, with Soin Liftant Corps (a body lifting cream in a jar, 150 ml, €115), enriched in chlorella vulgaris extract and green micro-alga oligopeptides to reinforce the skin's elasticity and visibly reduce the appearance of stretch marks (colour and size). Close to 'anti-aging slimming products', this global regenerating cream – which also acts on the breasts – endowed with a rich, creamy texture, stimulates cell vitality, thanks to the antioxidant power of vitamins E and C, combined with the Trio-Moléculaire® formula.
Eisenberg also developed Sérum Amincissant Corps (body slimming serum, 150 ml, €89) and Cryoform, Actif Anti-Cellulite & Anti-Âge Corps (body anti-cellulite & anti-aging active, 240 ml, €77), based on cryotherapy.
Nocibé imagined a hybrid texture (Body Focus Firming Cream-to-Oil, 200 ml, €19.95).
As for Nivea, they have made double action their main concern for their 2018 slimming products (stretch marks have never been that much in the spotlight!): Q10 Plus Gel crème Fermeté + Cellulite (Firming + Anti-Cellulite Cream Gel, 200 ml, €11.30), Q10 Plus Huile Corps Fermeté + Vergetures (Firming + Anti-Stretch Marks Body Oil, 200 ml, €9.20). Even the light leg cream tones up the skin and reduces the appearance of cellulite (Q10 Plus Menthol, Lait Jambes Fermeté + Fraîcheur, a menthol-based milk for freshness and light legs, 200 ml, €5.90).
Increasingly natural formulas
Slimming products cannot escape the naturalness wave!
As an example, the latest creation by Somatoline Cosmetic (Natural Slimming Gel, 250 ml, €35.90) contains 95% of natural ingredients: natural caffeine, pink pepper, pomegranate, ginger, and peppermint extracts, escin… and also, of course, argan oil to nourish the body.
Natura Slim by Linéance (150 ml, €14.90) is a firming, anti-cellulite, moisturizing formula with 98% of natural ingredients (caffeine, essential oils, red alga, Aloe Vera…) featured in a highly-convenient spray.
Le Petit Marseillais integrated apricot oil, green tea, and star anise to their anti-cellulite beautifying oil (Huile Sublimante Anti-Cellulite, 150 ml, €9.70 to €10.50).
Puressentiel Minceur chose a targeted application for small areas with the Stubborn Curves Roll-On containing 18 essential oils (75 ml, €15.70).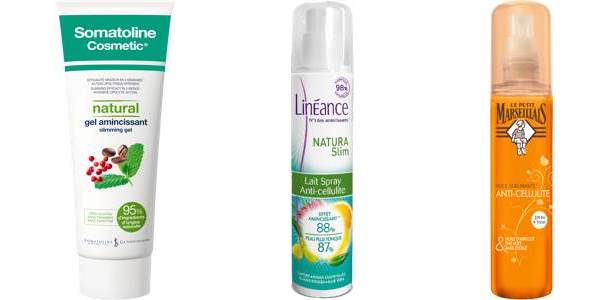 In beauty salons, YON-KA banked on pink pepper oil and essential oils with Huile Silhouette Cèdre Cyprès Aroma-Fusion Silhouette (Aroma-Fusion Oil with cedar and cypress in a spray-bottle, 100 ml, €39).
Ultimately, organic cosmetics do not lag behind, as Patyka launched an organic-certified body anti-aging, lifting, and moisturizing cream (organic acacia polysaccharides and plant-derived hyaluronic acid) in a targeted applicator tube: Youthful Firming Body Cream (90 ml, €47).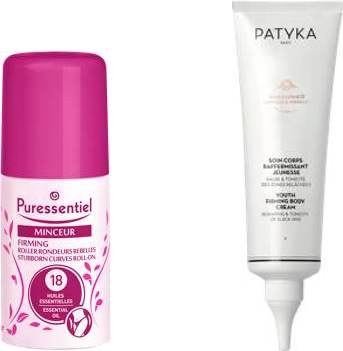 Ariane Le Febvre
© 2018- 2022 CosmeticOBS