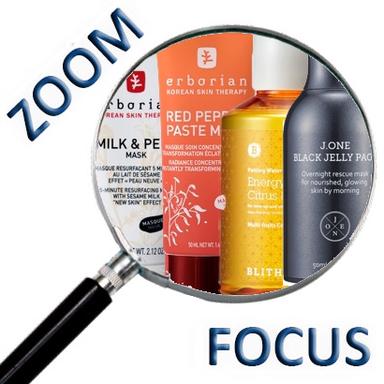 Liquid, sauna, bright red, made of cotton woven with gold threads or seaweed leaves… Imagination has no limits in this highly creative sector of facial care. A selection of those that catch the eye…
Eye catching masks
Literally these "eye catching" masks will make their effect on instagram (it counts!).
Among the most spectacular, the furiously red Erborian Pepper Paste Mask (Red Pepper Paste Mask, Radiance Concentrated Care Mask, 50 ml, €37, starting in April).
Rich in carotenoids, the chilli pepper (which is to Korea what the baguette is to France!) has here benefited from a specific extraction from which has been removed the capsaicin (which makes the flavour of the dishes but not of the skin!).
Highly photogenic too, TonyMolly's moisturizing night mask, coiled in a little pink cat so kawaï (Cats Purrfect Night Mask TonyMolly, 50 ml, €17, at Sephora), or the all-black Anticerns Mask by Wish Formula, in the shape of an adorable bat (€3,90).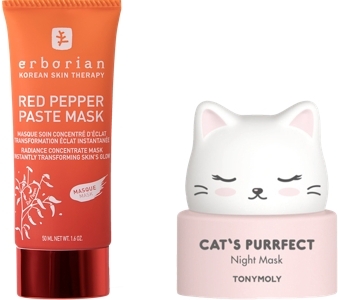 As for black masks, the newest ones no longer use charcoal but peel-off textures (Luminizing Black Mask, Masque Noir Teint Lumineux by Boscia, 80 g, €31, at Sephora), or "jelly" and precious black ingredients such as truffles or black berries (Black Jelly Pack by J.One, 50 ml, €43).
Nicknamed the "corset mask", its technology forms a shape-memory canvas that "lifts" the features, while preserving the suppleness of the skin.
Another mask that acts on skin slackening and ovality is Dr. Oracle's V-Line Diamond Mask (€4,50).
At the cutting edge of Tension-Up technology, made of cotton woven with gold threads, it is composed of two superimposed bands of fabric, connected by rings that hook onto the ears for better support.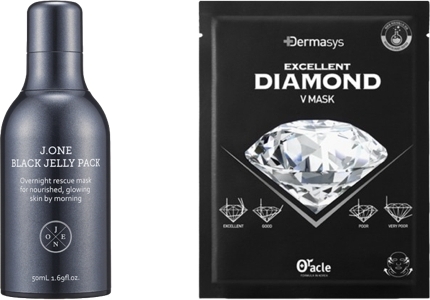 Splash masks
These liquid masks like water, also known as patting water packs, are the new Korean women's new tocade.
Concentrated in powerful active ingredients that exfoliate, revive radiance, moisturize… they are diluted in water (in the sink or shower) and "splash" over the entire face, tapping with the palms of the hands, producing their effects in less than a minute. Their multi-action spectrum reduces the number of steps in the layering process by replacing the tonic and serum.
The great Splash Mask specialist is Blithe, who offers three of them: Rejuvenating Purple Berry, Soothing and Healing Green Tea, or Energy Yellow Citrus and Honey (200 ml, €39 each). Following this trend, Origins has created the Optimizing Pre-Mask Maskimizer (95 ml, €20), designed to multiply the effects of any mask.
Biodegradable masks
As sheet masks (fabric masks in single sachets) are not biodegradable, brands are inventing much more ecological supports, such as tencel sheet, a natural fibre from eucalyptus wood that Atfox uses in four masks (Moisturizing & Soothing, Firming & Moisturizing, Radiance & Energizing, Purifying & Balancing, 20 ml, €3.50 each), or masks made of vegetal tissue (Kit of 3 Litchi/Ananas/Coco masks from Sephora Collection, €7.95).
Well also, biocellulose is still rampant.
Obtained through biotechnology, this natural nano-fibre, 100% biocompatible with the epidermis, uses a fermentation process with a specific bacteria that grows in coconut water, producing cellulose fibres.
Used for serious burns, biocellulose can be used on the most sensitive epidermis.
It can be found in specific masks for the eye contour area (Regard Hyalushot Eyes Response, Biocellulose High Impregnation Mask with Matis, five sachets of two pre-impregnated masks of 10 ml of serum, €52), or moisturizing and soothing masks, perfect in winter for all skin stressed by the cold (Hyaluron-Filler Intensive Mask with Hyaluronic Acid from Eucerin, single mask €8.10 or box of four masks, €28.40 ; DHC Bio-Cellulose Face Mask, €10,50 at Nocibé; Prebiotic Mask Balancing, Softness and Protection Mask of Biocyte, €7 the mask or €27,50 the box of four).
But the most eco-friendly of all is undoubtedly the Natural Algae Mask from CellBn, 20 ml, €9.50.
Made from a whole algae leaf (which is itself detoxifying), harvested in the Goheung Sea in South Korea, this 100% natural mask, enriched with a 16-plant serum, consists of two parts that fit perfectly to the face.
A real "Swiss army knife" of care, it has an answer to almost everything (radiance, imperfections, mature skin…)!
Hot and cold
Here you can find cryotherapeutic peel-off masks that stimulate circulation and plump the skin (Boscia Mermaid Fire and Ice Mask, 80 g, €34.50, at Sephora), or aluminium sauna masks, also called foil masks.
They consist of a double layer: the inner layer of the mask is made of soft knitted cotton soaked in a serum with targeted ingredients. The outer film is an aluminium foil that seals the active ingredients and warms the skin during application to open the pores (like a steam bath), allowing the active ingredients to penetrate better (Make P:rem Thirst Quenching Sauna Mask, €4.90).
Speed masking
This is the sinews of war, actions must be increasingly fast and exposure times must be reduced from five to ten minutes maximum.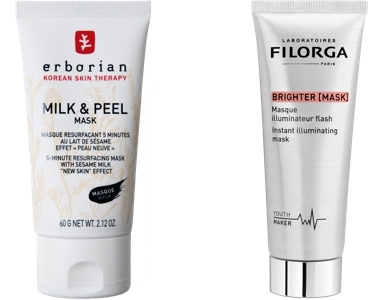 In this register, we can mention Milk & Peel Mask, Resurfacing Mask 5 Minutes with Sesame Milk, Erborian's "new skin" effect (60 g, €30), Filorga's Youth Maker masks (Refiner Mask, Flash Perfector Mask, etc.), and the "new skin" effect of Erborian (60 g, €30, in January); Brighter Mask, Flash Illuminating Mask; Plumper Mask, Flash Plumping Mask, 75 ml, €32.90 each, from April), or the 1 Minute Lotus or Avocado Face Mask from Sephora Collection (€9.95).
In the meantime, we are waiting for the spray mask that will spray nanofibres (non-occlusive) on the face of Japanese Kao. These nanofibres (their size is barely one hundredth of the thickness of a hair) will immediately clump together to form a transparent film that will create a greenhouse effect.
This "second skin" can be worn at night or removed after about a minute!
Ariane Le Febvre
© 2020- 2021 CosmeticOBS