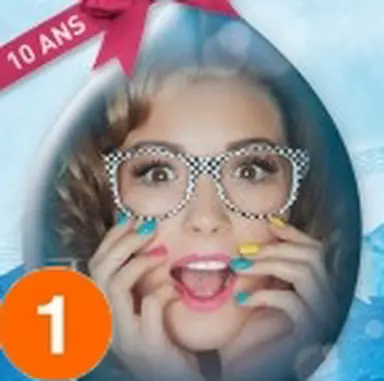 Just like every year, the Cosmétagora show organized by the SFC (French Society of Cosmetology) last January 10-11 celebrated innovations in cosmetics formulation. Brands could find plenty of inspiration, both in terms of product design and marketing concepts.
Cosmétagora is always a much awaited and popular event in the cosmetics world. The current trends were revealed in the area dedicated to the presentation of the formulas selected for the fifth Cosmétagora Formulation Award. 66 laboratories were in competition. CosmeticOBS chose to start by introducing the four formulas rewarded, and then all the others (in the alphabetical order of the laboratories and by resuming their sales leaflets).
Winning formulas
You are officially done with boring lip cleansing – which had gotten even more difficult with long-lasting and kiss-proof lipsticks…
With its solid, perfectly transparent stick, this cleanser delivers a micro-emulsion which instantaneously dissolves lip makeup, in particular thanks to NEOLIGHT 100P, which exhibits excellent cleansing properties.
It is combined with RISOREX PGIS23, which enhances the cleansing action with its high compatibility with pigments.
The whole formula is gelled thanks to AJK-IS3613, a new gelling combination for oily phases. AJK-IS3613 offers new opportunities for formulating transparent, stable sticks.
It also helps obtain oily gels and emulsions with a different skin feel.
Light and truly radiant, KAK TCIN optimizes the formulation of transparent sticks by enhancing transparency, stability, and hardness.
A precious ally for AJK-IS3613!
Learn more
• Visit the website .
Natural Cleansing Gel
This self-emulsifying, rinse-off cleansing gel is composed of 100% natural ingredients.
If it only makes up 0.3% of the formula, the KANEKA SURFACTIN ingredient helps easily get a D-PHASE gel with a high quantity of oil (66%).
Once rinsed off, the formula leaves the skin soft and well-hydrated.
Learn more
• Visit the website .
Inspired from the art of confectionery and food technology, our surprise meringue is an anhydrous, delicately airy foam that will astonish you with its transforming texture. In contrast with the lightness suggested by the whipped cream finish, the richness and firmness of our meringue are revealed when it is delivered and applied on the skin.
Rich in natural ingredients, the formula intensely nourishes the driest skins and produces a silky finish.
Advantages:
Technical challenge: Solid airy anhydrous foam stable at pH4.25 and 40 °C.
Key ingredients (the ten ingredients are globally validated: China OK):
Lipex SheaSoft: Shea butter stable at high temperature thanks to a unique triglyceride mixture.
Modified starch contributing to the product texture and sensoriality.
Lipex Shealight: Shea butter ester providing a silky, non-sticky skin feel.
Let this irresistible melting sensation surprise you!
INCI:
Butyrospermum parkii butter
Aluminium starch octenylsuccinate
Ethyl oleate
Ethyl stearate
Euphorbia cerifera (Candellila) wax
Butyrospermum parkii (Shea butter) unsaponifiables
Ethyl linoleate
Butyrospermum parkii butter extract
Ethyl palmitate
Parfum (Fragrance)
Learn more
• Visit the website .
Prodotti Gianni - Coup de Cœur Prize
Let It Glow Soft Baked Powder
The formula is mainly based on natural and mineral ingredients with a high percentage of corn starch for a very silky skin feel.
The 'terracotta' technology helps obtain a highly soft skin feel and a good pay-off. The silicone-free formula contains a natural 'silicone-like' binder compliant with the Ecocert and Cosmos standards for a natural 'finish' and an immediate radiant glow.
To be applied on the foundation as a highlighter.
Learn more
• Visit the website .
Formulas presented (A to B)
This gel will help you shape your hair exactly as you want it to meet the artfully dishevelled, dominated, or plastered down trends.
You just cannot get out of your house in the morning without managing and fixing your hair?
Just spray the gel on your hair and sculpt your locks with your hand.
The gel is to be applied on dry or damp hair. A knob of gel will usually do.
On damp hair, it will create a wet effect.
Residue-free Jelly Boost Volume Style does not alter hair fibres.
A perfect 'finish' topped with a delicate perfume.
It fixes the hair without a sticky or heavy effect.
A dream come true.
The spray market has been booming for several years and is a real challenge for formulators who have to play with low viscosities to guarantee emulsion spraying and stability.
Fulfil your dream thanks to ADEKANOL GT-930.
ADEKANOL GT-930 is a polymer designed to stabilize emulsions and create a fine spray even for the most viscous gels, while preventing any runoff once the gel has been sprayed on the skin.
It helps formulate systems with different viscosities, from fluid suspensions to thick creams.
Learn more
• Visit the website.
COSMOS Face cleansing paste
The uniqueness of this O/W COSMOS Emulsion lies in its texture!
At first, its old-fashioned ointment look awakens curiosity. Then, it reveals a real sensorial experience: apply a generous quantity, and the paste slowly melts on the wet skin to turn to a soft, creamy texture and offer a persistent sensation on the skin even after it has been rinsed off.
We went back to basics with simple raw materials like VITACEL© CS 20 FC, natural, biodegradable cellulose.
Used as a real texturing agent here, this fibre derived from wood visually transforms the emulsion, which instantaneously gains volume and unctuosity.
Sensoriality is amplified, followed by endless softness.
The small, supple brush modernizes the use of the product: it offers a new gesture for daily, delicate cleansing.
This surprising toothpaste-like paste containing 99% natural ingredients will wrap your skin in a cotton bubble!
Instructions for use: apply a knob of product on damp skin.
Describe circles with the small brush and rinse off.
Learn more
• Visit the website .
Personalized melting scrub according to your desires and needs.
Let this sweet scrub with a soft Madagascar Vanilla perfume bewitch you.
Rich and sensorial, this scrub melts when it comes in contact with the skin to wrap you in a moisturizing, protective film.
Thanks to the combination of coconut powder, natural waxes and sweet almond oil, this sweet square will exfoliate any body parts you want: face, hands, chest, legs…
Take pleasure in taking care of your skin with this silky, comfortable concentrate.
Apply on damp skin and rinse off.
Suits all skin types, even dry and sensitive skins.
Contains 95% natural ingredients, including 65% derived from organic farming.
Learn more
• Visit the website .
Just wave our magic spatula and this cream will carry you from a fresh, frozen world to the cosy comfort of your pillow!
Only one conjuring trick will do.
Highly fresh and light like water, it transforms on the skin to release all its softness enhancers. The Magicienne sans Artifice is a real sensorial cascade that will surprise you!
What if this delicate cream were an aqueous gel and not an emulsion?
Thanks to the Tagra encapsulation technology, silicone capsules are dispersed in a hydrophilic environment and, when applied on the skin, release their content on the skin, as if by magic.
Water and oil actually live together in harmony in the formula for the magic to happen.
The astonishing sorbet texture is obtained thanks to the Aquakeep 10 SH-NFC, a highly absorbing polymer that can capture up to 700 times its weight in water!
It helps obtain matte, frosted textures and a fresh, outstanding skin feel.
Just snap your fingers and this magic potion with so few ingredients becomes a precious ally for a refreshed, soft skin!
Learn more
• Visit the website .
Let it Snow
This transparent gel contains 100% natural, finely dispersed white wax microbeads providing a different, attractive visual aspect.
Applied on the skin, the gelled network breaks down to make spreading easier by releasing the fine wax particles which melt in contact with the skin, thanks to their optimized melting point.
The sensoriality of this texture combines freshness and a skincare effect for a soft, velvety finish ideal for all skin types.
This formula allows for multiple interpretations, like that of a serum with a surprising texture.
For example, it can be easily completed with a pool of efficient actives combining technicity, sensoriality, and efficacy in only one product.
Learn more
• Visit the website .
Oxy'tea is a detoxifying, 2-in-1 face mask with a gelled, melting texture. Its transparent appearance adorned with sugar nuggets reminds of gold grains in suspension.
This mask provides skin nutrition, oxygenation and detoxification.
Applied on damp skin, its double function provides a unique sensorial experience.
When they come in contact with water, the sugar nuggets softly crackle on the skin surface.
This mechanical action exfoliates the skin to leave it smooth and radiant.
Enriched in green tea Berkemyol©, the mask also exhibits a deep biological action resulting in the oxygenation of the skin tissue, which helps it fight against pollution.
Oxy'tea helps the skin detoxify in only one gesture, both on the surface and in the deeper layers.
Devoid of any superfluous ingredients, its formulation is composed of 10 ingredients chosen with great care to provide sensoriality and efficacy.
Formulated without water and with little heating, this formula is only composed of emollients and fats for a sweet texture that softens the skin and makes it suppler.
Its application leaves the skin silky and well-nourished.
Learn more
• Visit the website .
To recover a beautiful, bright, radiant skin, only one keyword: hydration.
To meet this essential need, Biocosmethic developed an 'Aqua power' formula, a cream with a velvety, rich and soft, unctuous and elegant skin feel which contains our Aquapuntia© active in particular.
Obtained from the Figue de Barbarie prickly pear gel, this active provides immediate hydration for up to 72h.
And because biodiversity preservation and respect for local communities are a priority to us, the Aquapuntia© active is derived from our Bolivian sustainable resources located more than 3,000 metres above sea level, south of La Paz.
Learn more
• Visit the website .
© CosmeticOBS-L'Observatoire des Cosmétiques
© 2018- 2022 CosmeticOBS