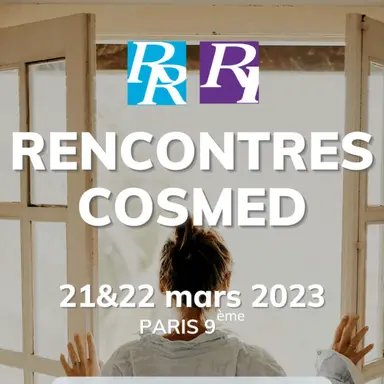 As every year, Cosmed, the association of SMEs in the cosmetics industry, is organising its Regulatory and International Meetings. They will be held on March 21 and 22, 2023 in Paris and in live streaming. Their mission is to provide participants with the latest cosmetic regulatory news, in Europe and internationally.
Tuesday 21 March 2023 - The Regulatory Meetings programme
• Review of the French and European institutions
-> Review of French controls and inspection campaigns (DGCCRF)
-> Revision of the European Regulation: changes, impacts and future work (European Commission)
• When marketing trends shake up regulation
-> Successful bulk sales: practical case from idea to reality (Cozie Cosmétiques)
-> Cannabidiol and other hemp derivatives: national specificities of European countries, towards a harmonised European framework (UIVEC)
• The environment, more than ever at the heart of concerns
-> Environmental regulations: Green deal, eco-design, claims… what are the stakes for industries in the face of the chemical strategy (Cosmed)
-> Environmental claims & fight against Greenwashing: general context and evolution of the regulation (Qolumn)
-> Packaging of tomorrow: overview of the different requirements and deadlines (Leko)
• Round table
-> Extension of the list of allergens: all concerned!
Wednesday 22 March 2023 - The programme of the International Meetings
• Country news
-> Korea: Customised cosmetics and refills (Korea Cosmetic Association)
-> Asia: What's happening outside China (Reach24H Consulting Group)
-> Near and Middle East (Israel, Egypt, GCC): Regulatory changes towards more convenience (Geosyntec)
-> USA: New era for cosmetics - Update on future regulatory requirements (Registrar Corp Europe)
• Panoramas Cosmed
-> International controls and inspections, Focus on claims (Cosmed)
-> Marketing requirements in Latin America (CASIC)
• Round table
-> China: End of transition periods, how to be ready?
FP
© 2023 CosmeticOBS