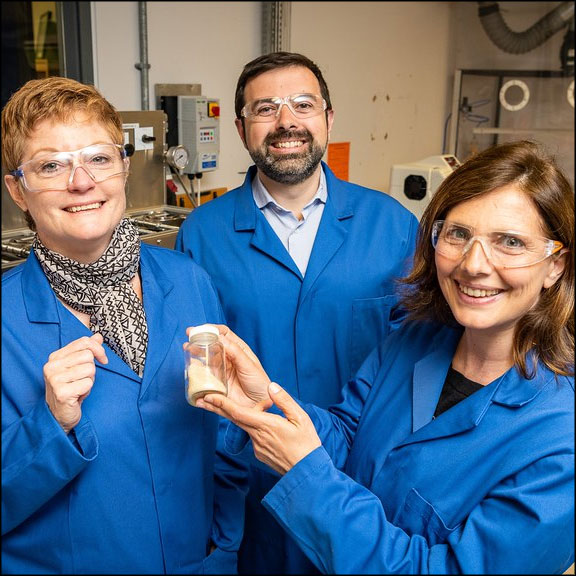 A start-up company Naturbeads, based at the University of Bath (UK), is working with companies to replace microplastics in cosmetics products with biodegradable microbeads made from cellulose. Naturbeads has been awarded funding by a partnership between UK Research and Innovation (UKRI) and Sky Ocean Ventures (SOV), through the Plastic Research and Innovation Fund.
Reading time : ~ 2 minutes
The technology to create the cellulose microbeads was developed at the University of Bath by Professors Janet Scott and Davide Mattia from the Centre for Sustainable Chemical Technologies in 2017. They co-funded spin-out company Naturbeads in 2018 to commercialise the technology together with Dr Giovanna Laudisio, CEO of the company.
The biodegradable microbeads are made using a solution of cellulose, which is forced through tiny holes in a tubular membrane, creating spherical droplets of the solution that are washed away from the membrane using vegetable oil. The beads are then collected, set and separated from the oil before use.
The prototype rig in this project will be used to produce kilogram-scale samples of cellulose microbeads. These will be sampled to companies in the personal care and cosmetic industry to be tested in formulations.
Professor Davide Mattiasaid: "Our microbeads are produced using cellulose, the most abundant bio-material on Earth, and what plants and trees are made of. We are excited to see our technology deployed commercially and to contribute to reducing plastic pollution in our oceans."
Naturbeads will receive £582,842 from UK Research and Innovation and Sky Ocean Ventures to build and test a scaled-up prototype rig for the manufacture of cellulose microbeads used in ...