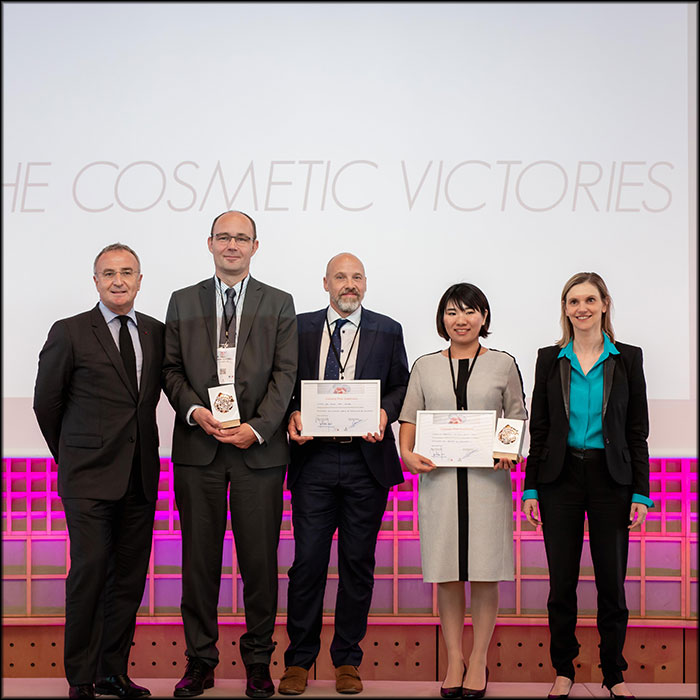 As Cosmetic Valley celebrated both its 25th anniversary and its fourth state certification as the national coordinator of the cosmetics sector, the fourth edition of the "The Cosmetic Victories" competition took place on June 6 in Paris, in the presence of the Secretary of State for the Economy and Finance, Mrs Agnès Pannier-Runacher, which wished to reassure the 200 industrialists present by assuring them that the FUI financing their cooperative projects will be plentiful in September, that the cluster and Business France should study the means of intelligent cooperation to support SMEs in the export sector and that French cosmetics deserved a French Tech label.
Reading time : ~ 2 minutes
The Cosmetic Victories competition has three objectives: to detect and reveal innovative start-ups, support their projects and promote research and science in the field of perfumes and cosmetics, from a scientific and academic perspective.
Coming from 90 projects from 14 countries, the two winners of the award founded by Cosmetic Valley and ESSEC were chosen for the innovative and concrete solutions they provided in the field of cosmetic perfumery. The Academic Prize (Basic Research) was awarded to Ms Kie Nakashima, Osaka University, Japan, for the new generation antiperspirant project (by hypnosis of the sweat glands). The Industrial Prize (applied research) went to the Brussels company Chemcom for its project on artificial mechanisms (through olfactory sensors distributed throughout the body) for tanning or skin depigmentation.
The two winning projects will each receive a financial allocation of €10,000 and support from the Cosmetic Valley cluster, which will take the form of support from the Cosmet'up platform, dedicated to accelerating innovative projects in the perfumery and cosmetics sector, as well as a visibility package including national and international media coverage.
Marc-Antoine Jamet, President of Cosmetic Valley, recalled the performance of a sector that, with 3200 companies, 240,000 employees and 8,000 researchers, has a turnover of 45 billion euros, exports of 14 billion euros, a positive balance of 112 billion euros, the ...