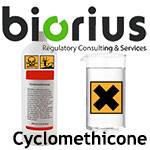 'CosmeticOBS did me the honour of asking what I thought about the future of cyclomethicones. Well, in my humble opinion, there is none.' Dr Frédéric Lebreux, General Manager of Biorius (specialized in regulatory consulting and supporting cosmetics companies), gave us explanations on the decline of a family of cosmetics ingredients that used to be essential, but are now held in contempt and will soon be banned. He also learnt a lesson from History…
Reading time : ~ 12 minutes
Our children keep asking questions about what caused the end of dinosaurs and it is never easy to answer. Today, palaeontologists seem to claim the end of dinosaurs is due to a cohort of misfortunes rather than a single event. Get informed, and next time your little one heaps questions on you, you will know that meteorite falls, volcanic eruptions, acid rain, and other joys leagued about 65 million years ago… So it is actually the accumulation of these individual trials that had these poor creatures' hide for this.
Similarly, cyclomethicones remind me of monsters (some of them sacred) which, after dominating the world of cosmetics for decades, are now attacked from all parts. Yesterday, they were hailed for their dry and pleasant skin feel, their exceptional spreading properties and low cost, today they are hated by many consumers and companies are facing hardly bearable regulatory risks because of them. What are these regulatory risks threatening the survival of cyclomethicones? The various initiatives can be grouped into two categories: one is related to human health protection, the other to environmental protection.
Environmental risk
From an environmental standpoint, Cyclotetrasiloxane (D4) and Cyclopentasiloxane (D5) present a known risk when they are discharged in ...