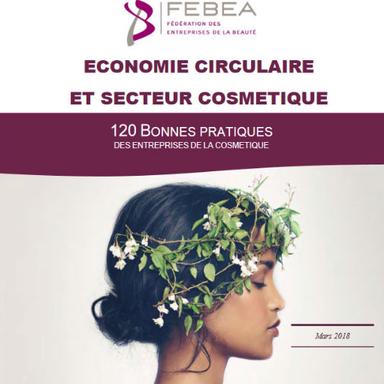 Today, environmental preservation is a fundamental issue for all industries, including cosmetics. As regards the planet's wellness, brands need to play the game and constantly rethink their production mode to preserve natural resources. FEBEA (French Federation of Beauty Companies) has just published the first White Paper on this issue, which comprises a list of 120 measures taken by 57 beauty players. What for? To help all companies adopt these good ideas.
The cosmetics industry is changing. It is no longer merely supposed to guarantee the final user's wellness, it also has to take into account environmental challenges.
A few companies are already aware of this, which is why they have been developing means to design beauty as part of a really more sustainable strategy, on all production levels.
FEBEA has organized this paper on good practices around three major challenges.
Ecodesign
Since natural resources are limited, it is important to protect them. As regards formulation, awareness involves using resources with a low environmental impact, reducing the number of ingredients in formulas, exploiting green chemistry, or choosing biodegradable ingredients for rinse-off products.
As for packaging, ecodesign consists in reducing size and weight, developing refills, and enhancing recyclability.
Sustainable manufacturing
Production modes should be reviewed to become part of a sustainable approach. To this aim, it is important to control energy and water consumption, treat effluents in-house, and implement more efficient production waste management (reuse, valorization, recycling).
Promoting responsible consumption
Lastly, it is absolutely essential to raise consumer awareness of eco-gestures and sustainable consumption patterns. The same goes for brands: they should help consumers be more receptive to issues related to waste sorting, water use, and the right cosmetics dose to prevent any waste.
Tools that help brands fulfil this mission include ad campaigns or packaging collection in stores.
The brands put forward by FEBEA include Chanel, Guerlain, L'Occitane, L'Oréal, or Clarins.
But SMEs do not lag behind.
They are also much involved in the circular economy.
Here are a few examples:
• Phytosolba have chosen energy contracts that favour green energy
• Eugène Perma have started converting their light fixtures and lighting logistics and production sites. It means the energy consumption will be reduced by 50%.
• Azur Fragrances have fitted switches with timers in the areas where people come and go
Environmental and resource preservation is a major challenge. The FEBEA guide on good practices is aimed to encourage the industry's players to rethink their production methods.
JS
© 2018- 2021 CosmeticOBS