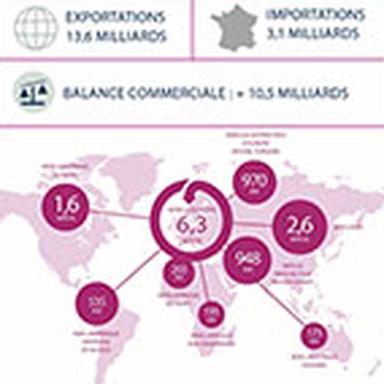 2017 marks a new record for French cosmetics, whose exports exceed 13 billion euros (+12% compared to 2016). The cosmetics industry is therefore still experiencing strong growth and remains one of France's export drivers. The sector thus confirmed its dynamism with a positive trade balance of 10.5 billion euros, which increased by nearly 14%.
Skincare and perfumes still represent ¾ of French cosmetics exports: 44.3% for skincare and 31% for perfumes. Make-up showed real dynamism with exports up 28% for lip make-up, 14.5% for eye make-up and 25% for powders.
Good growth for the majority of export zones
In a mature market like that of the European Union, growth remained sustained with an increase of 6.2%. Growth led by Germany, the United Kingdom, Italy and Spain, all four of which remain in the top five countries to which France exports the most.
Exports to Asia skyrocketed with an increase of 25% in one year and growth of over 30% in China and Singapore. The continent is regaining real momentum after a year 2015 without growth and a year 2016 marked by a timid recovery (+9% in 2016). 20% of French products now go to Asia, representing more than 2.6 billion euros.
North America posted a 19% increase in exports, with a 20% increase in the United States. This country is the second destination of our exports.
Led by the United Arab Emirates and Saudi Arabia, exports to the Near and Middle East are up 13.1%.
North Africa is the only zone to experience a decline in 2017, with a 14% drop in exports, despite a recovery in Egypt (+17%).
" The results for 2017 confirm France's position as a leader on the international market. We can rejoice in the notoriety of French cosmetic products which always seduce foreign countries thanks to the unique know-how and made in France. "said Patrick O'Quin, President of the Fédération des Entreprises de la Beauté (FEBEA).
© 2018- 2021 CosmeticOBS