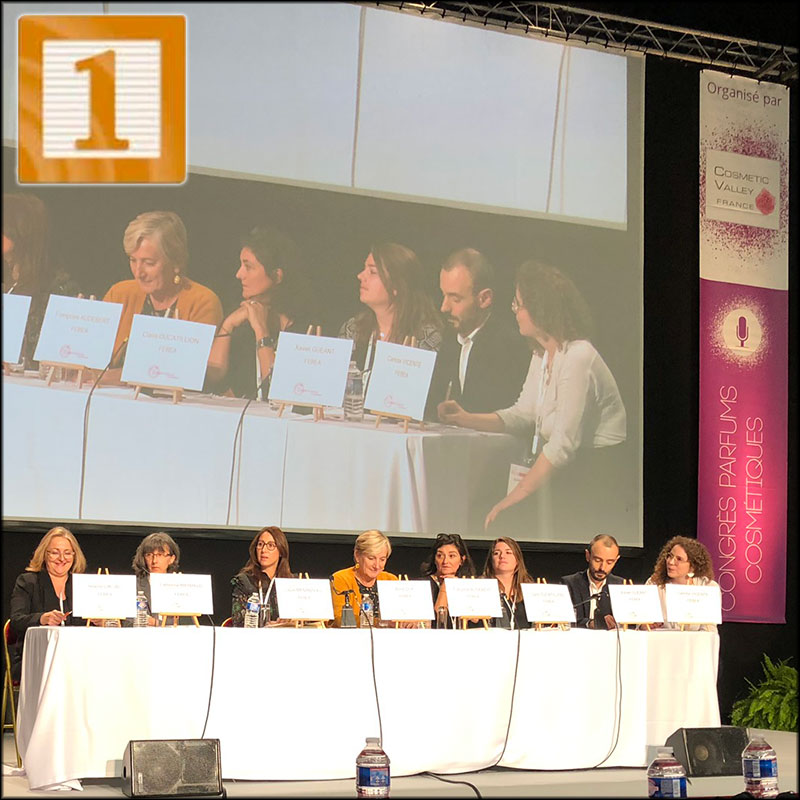 As every year, at the end of the Cosmetic Valley Perfumes & Cosmetics Congress held in Chartres on November 6 and 7, 2019, the entire FEBEA team answered the questions prepared by the delegates during the two days of the conference. A session punctuated by numerous questions about the use or future of cosmetic ingredients currently in the spotlight: endocrine disruptors, CMRs, nanos, fragrance allergens… and cannabidiol !
Reading time : ~ 20 minutes
They answered questions from delegates on November 7, 2019:
• Anne Dux, Director of Scientific and Regulatory Affairs, in charge of European relations
• Hélène Orliac, Director of Economic, Environmental and International Affairs
• Xavier Gueant, Director of Legal Affairs
• Laure Menanteau, Scientific and Regulatory Advisor
• Catherine Bramaud, Scientific and Regulatory Advisor
• Françoise Audebert, Scientific and Regulatory Advisor
• Claire Ducatillon, Head of Mutualised Audits Department - CVL Quality Assurance Manager
• Carlota Vicente, Environmental Affairs Officer
Ingredients
Question Endocrine Disruptors: List of EPs
The SNPE2 (French National Strategy on Endocrine Disruptors) of the Ministry of the Environment plans to publish a list of endocrine disruptors in 2020. Are you aware of an available draft? Will there be any ingredients other than the 28 ingredients already identified in cosmetics in the European Commission's lists A and B?
Françoise Audebert's answer
The SNPE does not only concern cosmetics: it is therefore very likely that this list will contain ingredients other than these 28, which are not endocrine disruptors, but for the time being ingredients for which there has been a call for data from the European Commission. I have no more information, no knowledge of a draft. It seems that ANSES will first make a ...