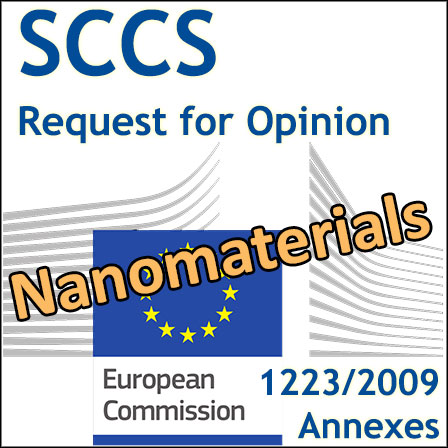 Many recent SCCS safety assessments of nanomaterials have concluded with the recurring finding that a lack of data or inadequate data provided by applicants does not allow the Committee to make a decision on the potential risk of the substances to human health. This is a problematic situation for the Commission, since it has in this case no legal means to regulate these nanos… It has therefore just asked the SCCS to review its copy, determining "the minimum level of potential risk that could justify a restrictive regulatory measure".
Reading time : ~ 6 minutes
Background
1. Establishing the concerns
Article 16(4) of the Cosmetics Regulation provides that "In the event that the Commission has concerns regarding the safety of a nanomaterial, the Commission shall, without delay, request the SCCS to give its opinion on the safety of such nanomaterial for use in the relevant categories of cosmetic products and on the reasonably foreseeable exposure conditions."
Thus far, the "concerns" of the Commission that gave origin to previous mandates to SCCS have been based on the intrinsic properties of nanomaterials, as a category, in light notably of their nanoscale dimension, bio-persistence and insolubility.
2. Establishing potential risk to human health
According to the Cosmetics Regulation, once a risk assessment for a nanomaterial has been performed, the Commission shall proceed with risk management measures provided that the risk assessment has established the presence of a potential risks to human health.
In this respect, Article 16(6) of the Cosmetics Regulation states that "taking into account the opinion of the SCCS, and where there is a potential risk to human health, including when there is insufficient data, the Commission may amend Annexes II and III." The risk of having "insufficient data" materialised in the recent experience with the inconclusive SCCS ...