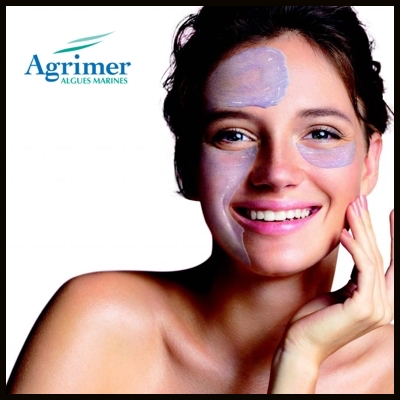 True stars of the 2019 edition of the in-cosmetics exhibition, algae have invited themselves to many stands of ingredient suppliers. This is the case of Agrimer, a Breton family company specialising in the transformation of marine resources into ingredients or active ingredients, which presented its latest innovation at the show: Fusion Gel.
Reading time : ~ 4 minutes
For more than 20 years, Agrimer has been taking advantage of marine resources and developing them for applications in both cosmetics and agri-food.
Based in Plouguerneau, on the north coast of Brittany, the company is fortunate to be located next to the Iroise Sea basin, where seaweed is harvested. This site is classified by UNESCO as a "Biosphere Reserve".
Thanks to this marine expertise, Agrimer has been able to take advantage of alginates to offer a new innovative product. "We have a new product that we introduced in the Innovation Zone, it is the Fusion Gel Peel-Off. It is a peel-off without dosage, without premixing, without water to add. The idea is to have a booth gesture that arrives at retail and at home. It is a mask that is made in two stages: a mask or gel and a top-coat, a fixative that will gel the mask. This gives the active ingredients time to penetrate the skin and so we have an application that can be done with a finger or a brush, we put the top-coat on it, we remove it in a single step. The result is a peel-off alginate film, free of PVP, alcohol, clean, ecological, respectful, which ...