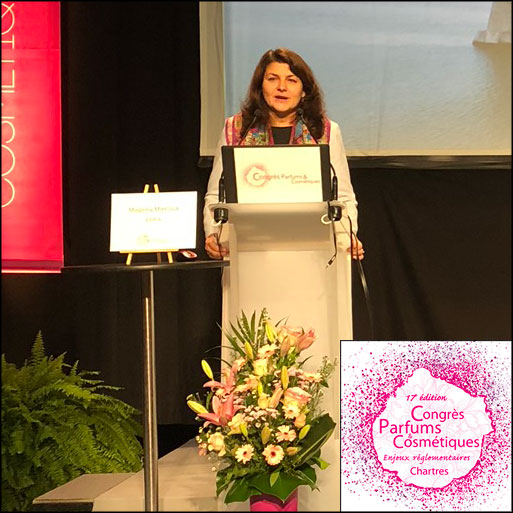 Very wide definition, very broad scope, very short transition periods… The proposal to restrict microplastics, published by ECHA in January 2019, could have a particularly heavy impact on the cosmetics sector. During the Cosmetic Valley Perfumes & Cosmetics Congress held in Chartres on November 6 and 7, 2019, Meglena Mihova, from the consulting firm EPPA, presented the content of this restriction, the road ahead before it becomes applicable, and the initiatives that it is still time to take to try to avoid the worst…
Reading time : ~ 23 minutes
"It is part of REACH, but this proposal to restrict microplastics can have a tsunami effect on the cosmetics industry," announced Meglena Mihova from the begginning of her lecture to set the scene.
The restriction proposed by ECHA
Cosmetics is now used to having restrictions applied to substances whose hazard has been identified, for example for CMRs. The context is very different here.
The restriction applies to solid particles containing polymers, because of their small size and their potential to be easily ingested and to enter the food chain. They are also targeted because of their high resistance combined with their very slow biodegradability, which means that once in the environment, they can remain present for a very long time and that they are practically impossible to eliminate. Microplastics are thus considered as substances without a safety threshold, similar to PBT / vPvB (Persistent, Bioaccumulative and Toxic / very Persistent very Bioaccumulative).
To solve this problem of the accumulation of microplastics in the environment, the European Commission wanted to start acting by targeting polymers used intentionally in all industrial sectors. Hence its request to ECHA to prepare a restriction measure.
The definition
It is the basis for identifying whether substances ...