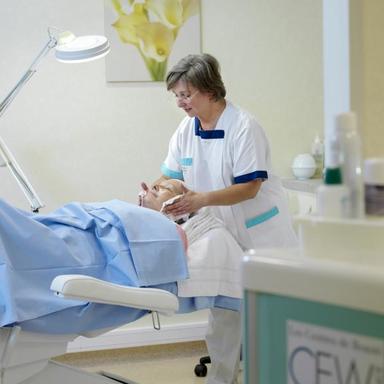 Cosmetics is a matter of pleasure and sensoriality, but not only. In many cases, it helps to feel better, to re-appropriate one's image. "Beauty is not futile, it helps to live better" is the postulate that Françoise Montenay, president of CEW France and the Beauty Centres, has been defending for years.
"A quarter of a century ago, a war was raging against cosmetics. We were accused of selling bad products that hurt the skin," recalls Françoise Montenay. "Worse than that, we were accused of being in seduction and futility. With a small group of women, we decided to join forces to demonstrate that cosmetics was not only a serious business but could also provide comfort. We have started to organize seminars, round tables and study tours based on our businesses. Very quickly, we realized that if we really wanted to demonstrate the positive effects of cosmetics on the mind, we had to go into the field. we started an experiment in 1992 at Gustave Roussy Hospital. We hired a beautician equipped with the products we thought were the best. Imagine a young woman walking around the halls, watched by doubtful doctors."
Training to heal
If the first experiences of care in hospitals proved to be conclusive, the founders of the Beauty Centres encountered a lack of beauticians qualified to provide care to sick people.
"It is a real profession to be a socio-aesthetician. We quickly understood that if we wanted to be taken seriously in our project, we had to be surrounded by practitioners trained in the hospital mentality, who knew how to address the patient always in compassion but never in pity. Thanks to L'Oréal, we have been able to establish a partnership with CODES, a school in Tours, which trains socio-aestheticians. Being properly trained in this exercise is essential. Volunteering and engagement are things that can be learned."
Over time, Beauty Centers have varied their services. In addition to offering beauty treatments, it is possible to participate in olfactory workshops.
"While we were providing care at Raymond Poincaré Hospital in Garches, one of the teachers came to us and asked if we could help young people with head injuries who had lost some of their language and memory. At that time, we already knew that there was a correlation between smell and emotion. So we started thinking and we set up a partnership with IFF and ISIPCA (Perfumery School) and opened the first workshop of its kind in 2001. The aim was to allow some patients to feel, to react to the smell and thus to revive memories in them so that they could talk and tell each other," explains Françoise Montenay.
The commitment of brands
Over the years, WEG Beauty Centres have evolved into a true institution.
In 2018, 35,000 one-hour treatments were provided to some 25,000 patients.
Hospitals are no longer the only infrastructures to benefit from this system, EPHADS are also concerned.
"We are wherever we are needed. We care for both teenagers and elders, who tend to be the forgotten ones. Our care has also opened up to about twenty pathologies, we are no longer confined to patients suffering from cancer," adds Françoise Montenay.
To perpetuate the action of the Beauty Centres, the CEW relies on the support of beauty professionals.
Françoise Montenay confides that she has "this fear of not being able to complete the year. And yet, I am never disappointed. We now have nearly 70 brands that regularly help us". This is the case with L'Oréal
"For the past 10 years, we have been working on making beauty accessible to all vulnerable people," says Sylviane Balustre, Director of the L'Oréal Foundation's Inclusivity Program. "The Foundation is committed to social actions. We want to help the most disadvantaged to regain their own confidence. We have established partnerships with associations such as Emmaüs or Les Apprentis d'Auteuil. We also work in hospitals, especially with people with cancer,"* she adds.
However, the battle is far from being won in advance. According to a study conducted by Odoxa on behalf of L'Oréal among people affected by cancer:
12% of people with cancer were able to access this care,
9 out of 10 people who have had access to it feel that they have felt better psychologically and physically about the disease,
8 out of 10 people report that this care has allowed them to better fight the disease.
"This is the major issue for us. We want to give access to this care to as many people as possible and our entire commitment is geared towards this goal. We will therefore continue our actions, we will always support the training of quality socio-aestheticians to serve the interests of the most vulnerable", concludes Sylviane Balustre.
JS
© 2019- 2021 CosmeticOBS