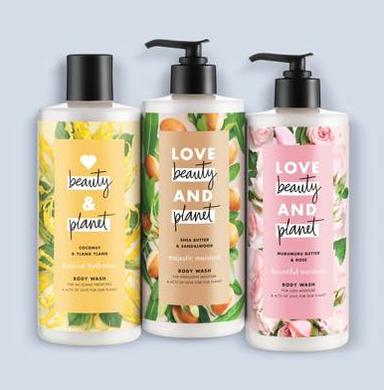 Environmental issues have allowed many niche beauty brands to emerge and attract consumer favour. The leading cosmetics groups have also decided to go green. The latest, Unilever, has just released its new eco-responsible brand, Love Beauty and Planet.
Cosmetic elephants are determined to restore (or green up!) their image with consumers.
After Procter&Gambler with its plastic shampoo bottle collected on the beaches and L'Oréal, which launched its organic brand, La Compagnie de Provence, in October 2018, it is Unilever's turn to present its version of sustainable beauty with Love Beauty and Planet.
Genesis of the project
It all began in the United States in 2018. Young employees of the group imagine a range that resembles them: committed, with a positive environmental impact, ethical and responsible sourcing and concerned about animal welfare.
Unilever has therefore decided to support the project. This is not surprising given that today, 33% of consumers are turning to sustainable products.
The Millenials, like the brand's designers, are also very sensitive to these issues. It is therefore important to offer cosmetics that meet the concerns of tomorrow's active ingredients.
Commitments
According to Unilever, 68% of women believe more in natural solutions than in scientific solutions, 54% value the composition of products and 42% are concerned about respecting the environment. Based on this observation, the group prides itself on having made strong commitments, in line with consumers. "All perfumes in Love Beauty and Planet products contain essential oils or natural extracts that are ethically sourced. The formulas are up to 98% natural and up to 98% biodegradable. They are vegan. They do not contain ingredients of animal origin and are certified by"The European Vegetarian Union", guarantor of the internationally recognized V-label. The bottles are made from 100% recycled plastic and are 100% recyclable. Toothpastes have an aluminium tube and a recyclable cardboard box made from recycled materials," explains Unilever. "Why are our bottles not 100% transparent? That's because they're made entirely of post-consumer recycled plastic. They are also fully reusable. The use of recycled plastic sometimes gives our bottles a little tint, but it's worth it."
What about the carbon footprint? "Each year, the brand commits to publicizing the carbon emissions associated with the production and distribution of its products. It imposes a tax of €40 per tonne of carbon emitted to finance a large European recycling programme."
All organic, all natural?
Logically, we expect to find in the formulas a cocktail of natural, biosourced active ingredients.
The brand specifies that particular care is taken in the compositions but that all the formulas are not organic. Why? "Certified organic formulas can vary in colour, shampoo and shower gel foams are often less generous and due to a reduced olfactory palette, their flavours are less rich," Unilever explains.
Natural, but not too much, so. If the cosmetic elephant is committed to nature, it is not about to compromise the customer experience. It wishes to offer the same galenic and perfumes as found in conventional cosmetics.
With a strong emphasis on pop packaging and well-polished communication, Unilever is setting out to conquer nature's ardent defenders.
Love Beauty and Planet aims to make more sustainable beauty accessible to as many people as possible.
The six cosmetic ranges (mainly composed of hair products, shower gel and skin cleansers) will be available in France from April 2018.
Some may think that the brand could go further in terms of naturalness. However, the major groups have finally succumbed to consumer pressure to develop a more environmentally friendly beauty… and it is not the planet that will complain.
JS
© 2019- 2021 CosmeticOBS