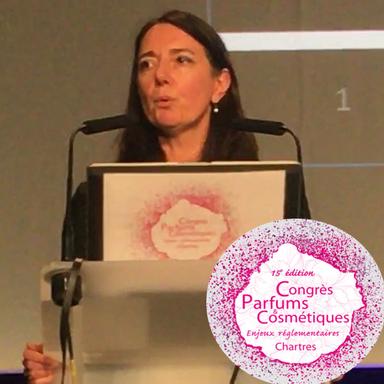 The future of the use of microbeads in the cosmetics industry seems to be clear now. Product manufacturers should be ready to stop making formulas containing plastic microbeads: in France, the prohibition of placing on the market 'rinse-off exfoliating or cleansing cosmetic products containing solid plastic particles' came into force on 1 January 2018. And many other countries have already taken or are about to take similar measures. At the Perfumes & Cosmetics Congress held in Chartres, France, on 14-15 November 2017, Tiphaine Daubert-Macia, Cosmetics Regulatory Affairs Director of Chanel, provided an update on microbeads in cosmetics.
They have had a bad reputation ever since people started to find them on seashores. They are not only denounced because they pollute the aquatic environment, there are also other allegations against them – wrongly, according to Tiphaine Daubert-Macia.
Media pressure
The public opinion accuses the cosmetics industry of being among the biggest contributors to the presence of microbeads in the environment, which is all the more harmful since they are not processed in treatment plants.
Wrong, said Tiphaine Daubert-Macia, who asserts 99% of them are caught and the cosmetics industry is a minor player in terms of microbead emissions.
Plastic microbeads are also disparaged because they can be ingested by marine animals. In addition to being toxic for these species, they can end up in consumers' plates.
Microbeads are believed to have a 'Trojan horse' effect, i.e. to act as endocrine disruptor carriers in the environment. 'Several ecotoxicological studies show the absence of impact on marine fauna,' Tiphaine Daubert-Macia countered.
To break down these clichés, Tiphaine Daubert-Macia relied on several studies from different countries (Norway, Sweden, Denmark, Scotland, the USA).
There is also a Danish study dated 2012 that shows the cosmetics industry is far from being the biggest microbead emitter. Quite the contrary: it comes last with an emission of four tonnes of waste in the ocean per year, far behind the car industry (2,250 tonnes).
'The contribution of cosmetic products to the global microplastic pollution is of about 0.1% to 1.5%. It is not null, but it is extremely low,' she emphasized.
To Tiphaine Daubert-Macia, the veracity of the impact of microbeads on the environment should get more extensively studied, but NGOs have taken over the issue 'as part of a more global strategy to warn about the issue of plastic pollution,' she added.
She explained that the various campaigns launched by Greenpeace and other NGOs made the press take interest in the role played by the cosmetics industry in this environmental issue, which is a great concern for consumers. Press publications multiplied over time, so that beauty professionals were put in the spotlight.
It is not that easy to accurately define what we are talking about, even for cosmetics professionals. A definition was drafted in collaboration with the different global players in this field.
A microbead is defined as any intentionally added, water insoluble, solid plastic particles (5 mm or less in size) used to exfoliate or cleanse in rinse-off personal care products.
Other key definitions were set up as research studies or regulations were published:
• Microplastic: water insoluble solid plastic particle smaller than 5 mm which can be found in marine waste
• Plastic: water insoluble synthetic polymer moulded, repeatedly extruded or physically shaped into different solid forms which keeps its original form during the use and disposal phases
• Solid material: material that has a definite shape and volume and cannot be altered under standard ambient temperature and pressure conditions (25 °C/1 atm) and which is neither liquid, nor gaseous
The beauty industry reacts
A recommendation was published in October 2015 by Cosmetics Europe encouraging cosmetics manufacturers to stop using non-biodegradable plastic microbeads in rinse-off products by 2020.
In 2016, this association of European cosmetics industries investigated the use of this component by the industry. The results revealed the whole sector had adopted a responsible attitude. Since 2012, 3,600 tonnes of microbeads were substituted in beauty products: an 82% reduction.
In France, FEBEA (French Federation of Beauty Companies) also called for its members to anticipate the ban and start looking for alternatives to this disparaged ingredient as soon as possible.
'Given all this pressure, the cosmetics industry just could not remain passive. Plastics in the aquatic environment are a sensitive issue. Professionals should have a responsible behaviour,' Tiphaine Daubert-Macia commented.
A tree to evaluate the potential contribution to marine pollution was also created. She explained that 'it will help identify which synthetic or plastic polymers might be found in the environment and for which of them we will need to consider substitution.'
Global regulatory pressure
NGOs' alarm call and the media focus on this issue inexorably led competent authorities to adopt a restrictive regulatory policy.
The USA and certain European States were the first global players to rule on the use of microbeads in cosmetics. As soon as 2014, a whole series of national projects intended to have them banned started to emerge.
Meanwhile, the United Nations took over the issue. They published a series of recommendations, first, and then they drafted a text, this year, to encourage companies to stop marine pollution induced by plastic particles by 2022.
In Europe, 'several countries started publishing regulations on that matter,' warned Tiphaine Daubert-Macia.
She went on with the chronology of the national regulations implemented.
It all started in 2015 with the publication of the US federal law prohibiting the use of microplastics in leave-on cosmetics on the American territory. It came into force in July 2018, and all the products concerned had to be withdrawn from the market.
South Korea ruled on the issue in 2016, by publishing a text in July 2017. Similarly to the US, the law became effective from July 2018.
As for France and Canada, they banned microbeads as from January 2018.
July 2018 also marked the beginnings of Australia's and Belgium's volunteer commitments, and the ASEAN area followed.
However, if all these countries agree on the principle of prohibiting microbeads, the scopes of application of the measures taken are pretty varied.
French regulations include solid plastic particles smaller than 5 mm, wholly or partially composed of plastic material, obtained with a hot shaping process, and which are contained in exfoliating or cleansing rinse-off products. They exclude natural particles that degrade in the environment.
Belgium, Canada, the Association of Southeast Asian Nations, and the USA have banned solid plastic particles less than 5 mm in size in exfoliating/cleansing rinse-off products.
Taiwan has added biodegradable microplastic materials.
Lastly, the bans in South Korea, New Zealand, and Australia are the 'broadest', according to Tiphaine Daubert-Macia. They include solid particles – if they penetrate the environment – smaller than 5 mm contained in rinse-off cosmetics. Neither the notion of biodegradability, nor the function of plastic are mentioned. It means that if a cosmetic component is a microplastic, it is banned.
The Chanel Regulatory Affairs Director also mentionned UK, Sweden, Italy, Ireland, and Baltic States.
Towards a European Union ban?
In Europe, many countries have started publishing regulations on the national level. But the scope of action varies from one State to another, 'which is tricky to deal with,' she emphasized. 'It is important to have a harmonized European text on this issue. The pressure of NGOs and the media is such that the European Commission cannot but set up a Regulation. It remains to be seen what regulatory framework will be decided for this ban and when the ban will come into force.'
The prohibition of the use of microbeads in rinse-off products on the European level could be implemented via REACH.
'This solution prevailed, which is a bit surprising, since everyone knows polymers are exempt from the REACH declaration. But the restriction of use of certain solid microplastics in cosmetics is still possible… bearing in mind that, under REACH, the hazard needs to be demonstrated first,' concluded Tiphaine Daubert-Macia.
JS
© 2018- 2021 CosmeticOBS