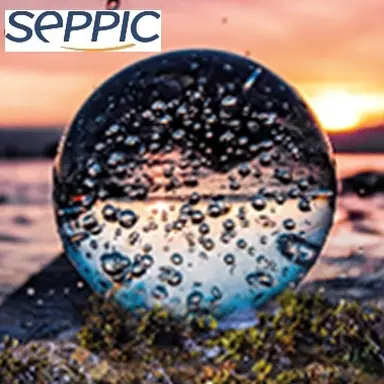 Water is an essential component in the formulation of a large majority of cosmetics… but it is also a resource that is becoming rare and precious. To limit its use, and therefore preserve it, Seppic has created a collection of water from algae. The ingredient supplier presented this new product at the 2019 edition of in-cosmetics.
According to the Water Information Centre, "the available fresh water is in constant supply as the population continues to grow and the demand for water increases. In the 21st century, resources will deteriorate. There will be less and less water that can be used without human treatment."
To address this issue, Seppic has sought an alternative to the use of fresh water in cosmetics. "We use Breton seaweed a lot as the main resource of our active ingredients. We realized, during the recovery of dry matter from the algae, that we do not use all the water it contains (on average between 80 and 90%). It was therefore a perfect opportunity to develop a new range and to integrate our company into an ever more sustainable approach," says Nathalie Trouvé, product manager.
Hydralixir™ : eco-designed waters
"We use Breton seaweed that grows naturally in pure water controlled by the Ifremer organism and is ethically harvested. So we have no impact on fresh water because algae use seawater to grow and flourish," explains Nathalie Trouvé. "Currently, we use two types of algae: Laminaria digitata, as well as a mixture of Chondrus crispus and Gigartina stellata. They are available for local, sustainable and sustainable harvesting. Moreover, all our seaweed harvesters have signed the ethical harvesting charter framed by the InterBio Bretagne guide of good practices, in order to preserve these resources and not destabilize their ecosystem".
To extract water, Seppic uses "a process that uses little energy. We collect the cellular water from these algae by gentle evaporation. It is then filtered and stored in order to maintain its purity and extend the shelf life of the product to three years," says Nathalie Trouvé. To the question: do seaweed waters have a cosmetic benefit for the skin, the answer is no. They have no impact on the formulation, they are stable.
On the other hand, they bring more naturalness to the product and are certified Halal, Cosmos and Natrue.
The Hydralixir™ range cannot replace 100% water in cosmetics (Seppic recommends using between 10% and 50% of the volume of the formulation), but reduces its presence. By developing algae water, the company is part of both the development of co-products (up-cycling) and a conservation approach for a precious resource.
JS
© 2019- 2022 CosmeticOBS