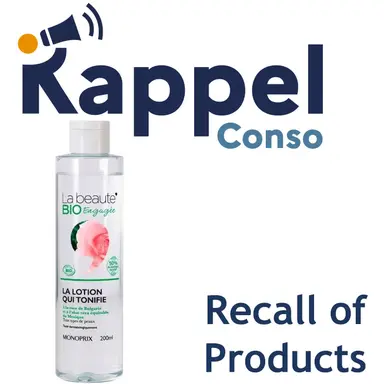 Rappel Conso has issued a recall notice for a tonic lotion from the brand La Beauté Bio Engagée distributed by Monoprix, due to contamination by a yeast that can cause infections.
Product name


La Lotion qui Tonifie
Model or reference
La lotion qui tonifie à la rose de Bulgarie et à l'aloe vera équitable du Mexique
Brand
La Beauté Bio Engagée
Batch numbers
• 12921 A
• 12921 B
• 12924 A
• 12921 A
• 12921 B
Geographical area of sale
Entire France
Recall's reason
Presence of the yeast Candida parapsilosis
Risks involved
This yeast can cause mucosal or skin infections in some people such as immunocompromised individuals.
Action to be taken
Do not use the product any more. Return the product to the point of sale. Destroy the product.
Compensation arrangements
Refund, Exchange
Contact number
+33 (0)800 084 000
IB
© 2022 CosmeticOBS