Rappel Conso has published a recall notice for a Laboratoires de Biarritz baby washing gel because it is contaminated with bacteria.
Product name
Gel lavant surgras Corps & Cheveux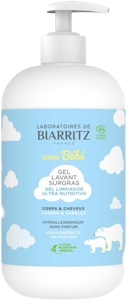 Brand
Laboratoires de Biarritz
Distributor
Pharmacies, parapharmacies, organic stores, online stores.
Recall's reason
Potential presence of the bacteria Pseudomonas aeruginosa.
Risks involved
This bacteria is likely to cause bacterial infections and is a health hazard for people with weakened immunity or cystic fibrosis.
Action to be taken
Do not use the product anymore, return the product to the point of sale, contact the consumer service, destroy the product.
compensation
Refund, exchange.
IB
© 2022 CosmeticOBS