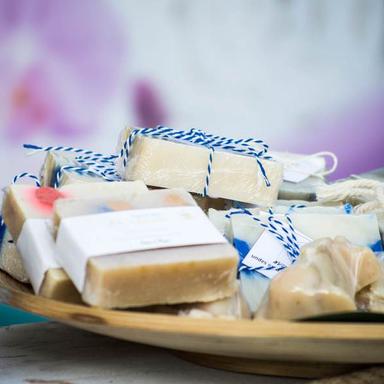 Less is more… and that also goes for the beauty sector. More and more brands offer 'solid' versions of cosmetics. What for? To provide consumers with a more natural and sustainable beauty alternative.
If they were long snubbed, solid cosmetics are now highlighted in our beauty departments. As an example, today you can find shampoos, shower gels, toothpaste, or deodorants in bars.
Natural and environmentally friendly
Today's consumers are different from yesterday's. They search for healthy, natural products with the cleanest composition possible. They trust the cosmetics industry a little less easily, most likely due to the media crises about certain disparaged ingredients.
Given this quest for naturalness, brands have decided to play the game. Some have even developed based on the concept of solid cosmetics, like Druydès, which is specialized in shampoo bars.
Co-founder Gwendoline Bressand tells how she ventured into this field: as a consumer, she looked for reliable products.
'First and foremost, Druydès is the story of two women, Fanny Preney and I. She is the mother of five children, including three with allergies. Cosmetics were a scourge for her children, so she tried making alternatives herself. I also suffered from allergies, and when you accumulate them, it is absolute hell to find suitable products. As a formulator firmly anchored in the 'free from' sphere, I decided to associate with her to develop a fully 'free from' brand, or the most 'free from' brand possible. We tried to offer solid alternatives by reducing allergy risks to the minimum. We removed the chemical allergens listed as well as the 14 food allergens (at least) most often found in conventional cosmetics,' she explains.
But beware, solid cosmetics does not always rhyme with healthy composition. It is important to carefully read the INCI list before making a purchase.
A commitment for environmental preservation
Environmental issues are also at the core of solid cosmetics brands' motivation. Gwendoline Bressand explains that today, 'a liquid shampoo is based on about 80% of water, and the bottle which contains it is also mainly composed of water, which is already a big issue. In addition, the plastic used for the bottles is very little recycled/recyclable, and it is the same packaging that ends up polluting the sea and all our green and living spaces. Solid cosmetics not only require very little water and energy during the manufacturing phase, but they also prevent the use of any packaging, which poisons our planet even more.'
The packaging of Druydès products also resulted from much thinking in line with the principles of preservation. 'It was a real headache when we set up the project. We did not want to make eco-designed products packed in polluting resources. That is why seeded paper convinced us straight away, although it does require some energy and resources. Nothing is lost, nothing is created, everything is transformed into flowers', she adds.
In addition, these products are economical, since they last twice as long as their conventional counterparts on average – an argument likely to convince the most sceptical.
What about sensoriality and efficacy?
Cosmetics are above all a matter of pleasure. The real challenge for solid skincare is to guarantee the user the same delight as with a conventional product.
Gwendoline Bressand states that as we are writing this report, 'brands have eventually found gentler alternatives, sulphate-free surfactants that are just as efficient and help formulate solid shampoos that wash, treat the hair, and provide this "clean" sensation consumers just love. 
Pleasure actually lies in this foam that, alone, symbolizes cleansing, cleanliness, and pleasure of having a wash. And by providing this little extra which they did not always get, we reconcile users with solid shampoo.'
And yet, in terms of formulation, it was certainly not going to be easy.
Cleaner formulas, positive impact on the environment, and attractive prices are all qualities solid cosmetics can boast having.
As Gwendoline Bressand reiterates, this field can produce a multitude of different cosmetic products.
Right now, they are not favourites among most consumers, but there is no doubt they have a long life ahead.
JS
© 2018- 2021 CosmeticOBS