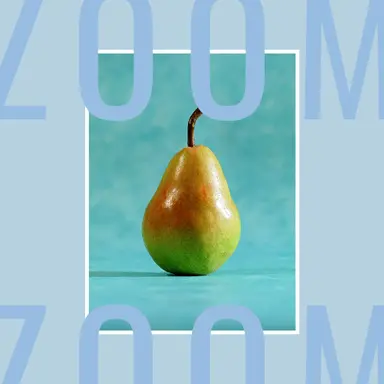 This winter fruit is one of the stars of summer fragrances! Juicy and sweet, the pear brings its delicate gourmandise (nothing nauseating) and its thirst-quenching freshness to the creations of the beautiful days. Perfumers say that it brings "a smile" and cheerfulness to compositions. Played in majesty or as a secondary role, the pear accord modernizes (not to say "rejuvenates") fragrances. It can also be found in facial care products.
Apart from citrus, it is one of the few fruits that brings a joyful and refined freshness to fragrances (neither girly nor mainstream, unlike many other fruits with syrupy accents). Its fruity scent is always synthetically reconstituted (notably with hexyl acetate).
It's so fresh that Guerlain dedicated an Aqua Allegoria to it in 2016: Pera Granita (eau de toilette 75 ml, €78), a pear granita scented with bergamot. And repeats this summer with Mon Guerlain Sparkling Bouquet (eau de parfum 30 ml, €70, 50 ml, €100 or 100 ml, €138), a fresh fruity oriental that Delphine Jelk Guerlain Perfumer describes as "a pear-lavender sorbet that melts over a burning vanilla".
Sparkling and mischievous, the pear accord illuminates the other notes (lavender, jasmine, vanilla and sandalwood), drawing a bright trail.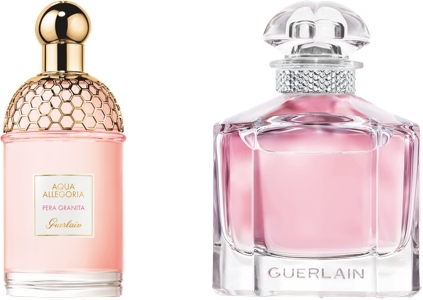 Giorgio Armani has used it as a top note since the first Acqua di Gioia. His latest creation Terra di Gioa (eau de parfum 30 ml, €54, 50 ml, €77) is no exception to the rule. This luminous floral oriental opens with a soft pear accord, sublimated by a powdery accord of heliotrope and almond blossom. The heart notes are Indian jasmine and the base notes are musks and amber woods that give it a soft and enveloping impression.
The liveliness of the pear accord is often used as a top note, as in FlowerBomb Dew by Viktor & Rolf (eau de parfum 30 ml, €59, 50 ml, €89 or 100 ml, €115), Black Musk by The Body Shop (eau de toilette 60 ml, €35 or 100 ml, €58.33), 201 by Bon Parfumeur (100 ml, €82), or Flower by Kenzo Poppy Bouquet (eau de parfum 50 ml, €82), but sometimes the pear also plays the leading role.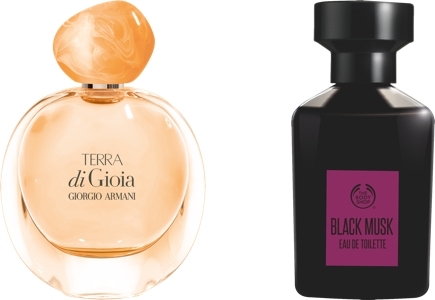 New perfumes in which the pear is the heroine
This is the case of Petite Chérie by Goutal, a perfume created in 1998 by Annick Goutal for her daughter Camille, a composition vibrant with affection that expresses the love of a mother, through a caress of rose and pear in a cocoon of vanilla and musk. The tenderness of a kiss between flower and fruit.
A comforting scent that has become an icon of the House and one of the first gourmands on the market. The House is honoring this fragrance with two limited editions to celebrate its 40th anniversary: the poetic "butterfly ball" bottle (its winged cap represents two butterflies kissing), and the pleated "couture" bottle, adorned with a golden velvet bow (eau de parfum 100 ml, €150). The House also imagines a nomadic roll-on to take it everywhere with you (Roll-on eau de parfum 20 ml, €34 ). And it offers a custom-made birthday cake: a pastry created exclusively by the legendary Maison Angelina. For the occasion, Angelina's pastry chef, Christophe Appert, has created an original cake in the shape of a butterfly ball. When tasted, it reveals the notes that are the hallmark of Petite Chérie: rose and pear, highlighted by vanilla and almond. A gourmand and refined composition.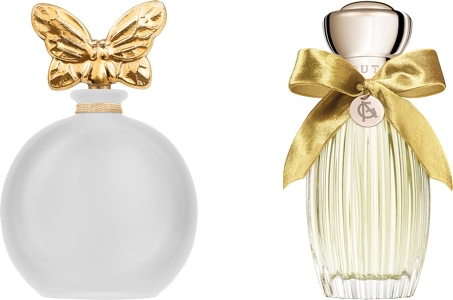 For its part, Juliette Has a Gun has just created Pear Inc. (eau de parfum 100 ml, €110), composed around pear, musk and Ambroxan, a refreshing and impertinent fragrance, hardly greedy, which pays tribute to this fruit with a taste of sun.
The pear accord in facial care products
Chanel was among the first to use it, combined with white flowers, in their Hydra Beauty line.
Now, the perfumers at Symrise Consumer Fragrance predict that pear will supplant apple in functional perfumery. After six years of research, they have just created Pearadise®, an ultra-safe, hypoallergenic and eco-certified fragrance with the scent of fruity, sweet and juicy pear. This new captive is the first 100% renewable and biodegradable biotech-boosted molecule.
The sweet roundness of the pear has not finished leading us by the nose!
Ariane Le Febvre
© 2021 - 2022 CosmeticOBS