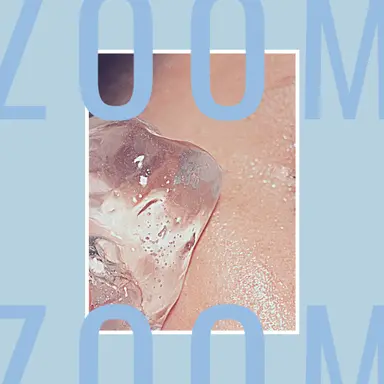 This cold-based technology has been used for slimming and heavy leg treatments, but now it is also used for facials. A step above simple freshness, it invites us to a real dive in ice water!
As we know, the virtues of cold are numerous. Firming, it activates the blood microcirculation, lightens the legs, deflates the eyes and tightens the pores. But until now, its properties were mainly used in body care, not much in face care. At the most, they were used in eye contour care (Beauté du Regard Cryo-Booster Cream by Galénic, 15 ml, €45). That's going to change!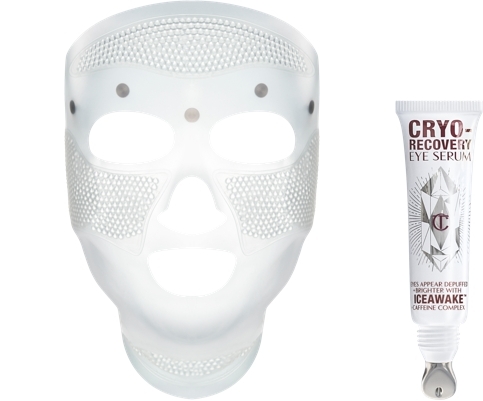 First, Charlotte Tilbury has created two new face care products inspired by cryotherapy (Cryo Recovery Eye Serum, 15 ml, €45 and Cryo Recovery Mask, a unique reusable mask, €59). The face and neck mask to be placed in the freezer 30 minutes before and left on for 10 minutes is quite spectacular. Thanks to a system of velcro straps, it can be adjusted and attached to the back of the head and neck, for an effective remodeling. Metal acupressure beads embossed on different areas of the mask also help stimulate the tissues. Soothing and invigorating, it immediately gives a healthy glow, reduces signs of fatigue, swelling, redness, fine lines and dark circles. If the mask owes its effectiveness to cold and acupressure beads, the serum dedicated to the eye contour combines, for its part, various "cold" ingredients from Switzerland, such as Iceawake™ (developed from an extremophilic bacterium taken from a glacier), or an ice wine essence (from grapes that have frozen on the vine), with caffeine and peptides. Equipped with a refreshing applicator, it deflates and smoothes the eyes. A professional makeup artist to the stars, Charlotte has been addicted to cryo since she started! So when her prestigious clients' skin is tired, puffy, sensitive or dull, ice has always been one of her secrets. There's nothing like it to revive the complexion! 'My famous clients love the immediate feeling of freshness and energy that ice brings to their skin." And so do many women!
From ice cream to snow mask…
This summer, brands are having a field day, from Garancia and its Diabolique Glaçon Crème Soie Cristalline (40 g, €37.50), a natural anti-pollution and super moisturizing shield, to Nocibé's Aqua Perfect Hydrating Snow Mask (50 ml, €19.95), as well as the Crème Sorbet Algue Velours by Compagnie de Provence (50 ml, 26 €).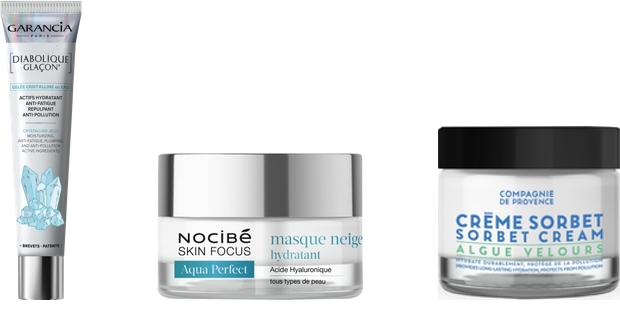 There is also the entire Hydra Life line by Dior (Emulsion Sorbet Micro-Gouttes Hydratation Semi-Mate, 50 ml, 64 € ; Crème Hydratation Fraîcheur 50 ml, €64 ; Soin Yeux Hydratation Givrée, with a refreshing ceramic applicator, 15 ml, €50 ; Brume Sorbet Energisante, 100 ml, €36.50… ).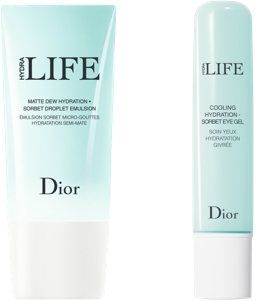 Caudalie, which had already created the Crème Sorbet Hydratante Vinosource-Hydra (40 ml, €20.90) with a quick-break texture (a gel-cream that "breaks down into water" on contact with the skin), is offering this summer an intense, light moisturizing patch for thirsty skin (Gelée d'Eau de Raisin Hydratante Vinosource-Hydra, 50 ml, €23.50). All of these products provide delicious, ultra-sensory hydration. Most contain hyaluronic acid and, for some (Garancia, Dior, Caudalie), prebiotics that protect the skin microbiome. In fact, Caudalie has just discovered and demonstrated the prebiotic power of its organic Eau de Raisin™. Thanks to the sugars it contains, this plant water provides nutrients to the skin's good bacteria to nourish them and strengthen the skin microbiome. As a result, skin is visibly healthier, and better able to protect itself from potential imbalances.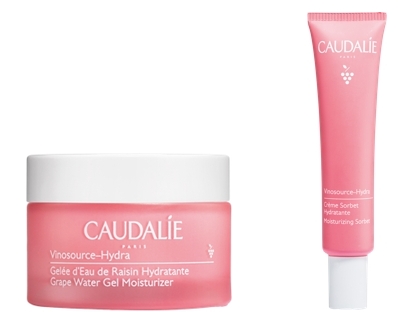 Invigorating hydration
Too often, we forget to moisturize our skin when the temperature rises, when all we need to do is use the right moisturizers (rich in water and low in fat). This is even truer for combination to oily skin, which is best served by using these "splash treatments" that melt into the skin as soon as they are applied, such as Cold Plunge Pore Remedy Moisturizer from Olehenriksen's Balance line (50 ml, €40, at Sephora), a new moisturizer with a slushy texture that reduces shine and the appearance of pores. Or Cooling Aqua Jelly by Clear Start (59 ml, €27), a moisturizing gel that regulates excess sebum and refines skin texture.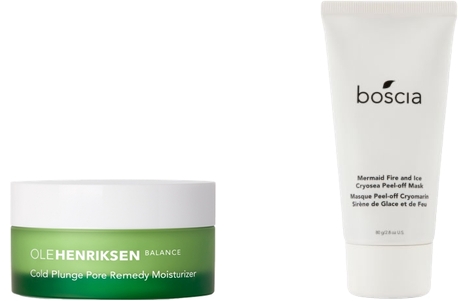 Another example is Boscia's amazing Cryomarin Siren Ice and Fire Peel-Off Mask (80 g, €35), an icy-cool mask whose texture creates a fun holographic effect. It combines cryotherapy-inspired ingredients such as mineral-rich seawater, red seaweed, sodium hyaluronate, kelp… with menthol that gives dull skin a glow.
Ariane Le Febvre
© 2021 - 2022 CosmeticOBS