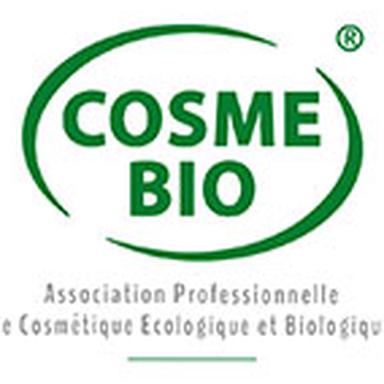 The annual general meeting of the Professional Association for Ecological and Organic Cosmetics took place last June 17 in Paris. Here is the outcome: a new logo, reaffirmed ambitions, keywords (trust and excellence) to direct the actions to come, and a new President to implement them.
Following the prerequisites of this type of meeting (moral account, activity report, election of the Board of Directors), the day opened to journalists. This was an opportunity for Betty Santonnat to provide an overview of organic cosmetics and present Cosmébio's positioning.
Based on the study conducted by Ethicity on French consumers' expectations and behaviour in terms of responsible consumption, and within a context of "sustainable revolution", the association's Development Director reminded everyone that Cosmébio represented an essential alternative solution to traditional consumption patterns in the cosmetics industry.
With its 375 members (90 % of which are French companies), it now gathers 500 brands and offers 9,200 organic-labelled products, for a global turnover of €345 million (4% increase in a year). Its logo appears on 95 % of the organic cosmetics available on the French market.
Values and ambitions
However, to Betty Santonnat, the best growth drivers for the association are the values represented by Cosmébio: respect for Man (Fair Trade, CSR) and Nature (preservation of biodiversity and traditional knowledge, minimization of the ecological impact).
Certification and independence, commitment charter, combination of hedonic and ethical cosmetics, a group of pioneering and innovative players for tomorrow's cosmetics industry: these are the strengths likely to make today's consumers trustful.
On top of that, the association has expertise in pooling resources through four commissions (Communication, International, Ethics and Law, Technical), and a training school to give support to its members, so that it accomplishes its own missions:
• promote a branch of excellence,
• raise consumers' awareness of a different cosmetics industry.
The goal is ambitious: within the next five years, one consumer out of two will have at least one Cosmébio-labelled product in his/her bathroom.
First edition of the Trophées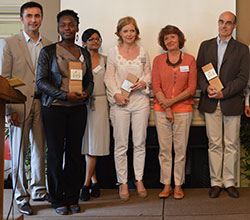 Cosmébio awarded its first "Trophées de l'Excellence" to symbolize this approach. The idea was to honour brands and products according to two criteria: giving more value to ethical involvement, and honouring products whose quality meets consumers' expectations.
Twenty products were preselected by Cosmébio's Ethics Commission for the coherence and originality of the brand's approach, and then examined and assessed by a jury of 20 consumers according to their attractiveness, efficacy or sensoriality.
Four trophies were awarded last April 17, one for each category in the competition: biodiversity, fair trade, Corporate Social Responsibility, environment.
The Cosmébio Trophées, or how to clearly promote the combination of cosmetics values and pleasure.
Indeed, the association is well-aware of the challenges awaiting in the years to come to be able to succeed in:
• re-enchanting with organic cosmetics,
• differentiating them through innovation,
• making them competitive with conventional cosmetics.
New logo, new President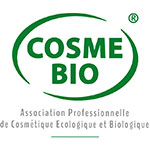 Today, Cosmébio intends to be ready to fight and offensive. Time is now for the organic cosmetics industry to hold its head high and proud. The association thus got prepared for awaiting challenges by creating a new institutional logo that looks more refined and uses the graphics of the one affixed on products.
It also renewed its Board of Directors, which is now composed of Romain Ruth (General Manager of Florame – President), Samuel Gabory (CEO of Nature et Stratégie – Vice-President), Nicolas Fouchère (CEO of Laboratoire Sicobel – Vice-president), Pierre Charlier de Chily (President of Aldivia – Secretary-General), Alexis Fort (General Manager of Pierre Cattier SAS – Treasurer), Agnès Ducrocq (President of Laboratoires Téane – Deputy Treasurer), Valérie Marcadet (Director of the cosmetics branch at Laboratoires Léa – Trustee), Régis Lelong (CEO of Laboratoire Odysud – Trustee), Cyrille Droin (President of Laboratoire Phyto-Actif, Trustee), Claudie Ravel (General Manager of Guayapi Tropical – Trustee), Philippe Laratte (President of Boutique Nature – Trustee) and Lionel Thoreau (General Manager of Melvita – Trustee).
At last, Cosmébio has elected its new President. After four years of good and faithful service, as he says himself, Samuel Gabory hands over to Romain Ruth, General Manager of Florame, although he remains Vice-President.
Romain Ruth: keep the momentum going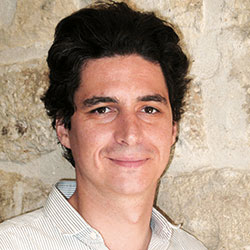 He says his " career path is a bit odd ". He was a criminal lawyer for seven years at the Paris Bar, where he defended many an impecunious, pro bono, in addition to his paying clients. He also defended one of the "Ponant pirates", who is now acquitted, he specifies…
However, just like every member of his family, he was " born in soap ", and that is how he left the legal profession to join his " dancer in Provence " and take over Florame's management, through which he endeavours to " forge ahead with organic cosmetics and make the brand evolve with ever more qualitative formulas and ethical practices " .
He first joined Cosmébio for his legal expertise. Yet, as he was logically given a position within the Ethics and Law Commission, it is definitely the ethical aspect he has been enjoying the most.
Following his election, he first aims to " pay tribute to Samuel Gabory's dynamism " and " keep the momentum he has given to Cosmébio ".
And what momentum does he want to give Cosmébio?
" Things are decided collectively with the Board of Directors ", he answers. " Thanks to its collective, Cosmébio has a huge strike force, as much to defend its values, which cover the whole spectrum of sustainable development issues, as for the daily service it offers its members. I do think the best way to give more value to organic cosmetics is to have a vision of conquest, without reducing the sector to brand identities ".
So what's on the agenda? Enhancing the training process by opening sessions to members as well, favouring export, giving the word "organic" its full meaning all around the world, talking with politicians…
And does he believe in the objective: in five years, one consumer out of two will have a Cosmébio product in his/her bathroom?
" This is ambitious, but we have every logical reason to believe in it. The evidence lies in the fact that exchanges between organic and conventional cosmetics are rich and fruitful: they feed one another. Organic cosmetics have popularized notions, textures, and consumer experiences. The example of the oil texture, which is getting widespread, including in the segment of conventional cosmetics, is a good example. I am convinced the organic cosmetics industry of excellence has a real future ".
First appraisal of his (first?) term: in a year.
© CosmeticOBS-L'Observatoire des Cosmétiques
© 2014- 2020 CosmeticOBS