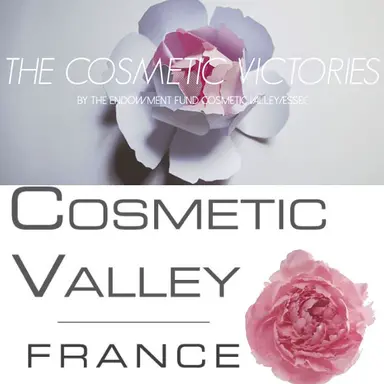 Launched four years ago by the Cosmetic Valley, the international innovation competition The Cosmetic Victories has three objectives: to detect and reveal innovative start-ups, support their projects and promote research and science in the field of perfumes and cosmetics. The six finalists for the 2019 edition have just been selected.
The Cosmetic Victories is open to the most innovative project leaders, hear innovations applicable to perfumery and cosmetics in all areas of the sector: ingredients, formulation, testing, process, packaging, chemistry, biotechnology, digital, distribution, new products and services…. These innovations can come from the perfumery-cosmetics sector or from a technological transfer from other sectors.
This international competition awards two prizes:
• The Academic Prize (projects from young graduates, doctoral students, post-doctoral students, researchers, scientists);
• The Industry Prize (projects from industrialists, entrepreneurs, startups and innovative SMEs).
For this 4th edition of the competition, Cosmetic Valley received 90 projects from 14 countries: Germany, Belgium, Canada, Spain, United States, France, Italy, Japan, Malaysia, Morocco, New Zealand, Switzerland, Taiwan, Thailand.
Meeting in Paris on 25 April 2019, the selection committee composed of international experts selected the six finalists.
The finalists
Academic Prize
• MICROSPHERE500, micro-mixers for the rapid production of continuous fresh emulsions
Project leaders: Agnès Montillet and Jérôme Bellettre, professors, University of Nantes (GEPEA and LTEN)
This project concerns the design of micro-mixers and their use at high flow rates (up to ½ L/min) for continuous emulsification (oil in water or water in oil). The patented geometry of the microsystems generates complex and confined flows, facilitating the stretching of fluid veins. Combined with the high velocity gradients in the microchannels, the flow ensures an intimate mixing of the phases in a very small volume and time scale. This process allows innovations such as on-demand production at a retailer of fresh emulsions.
• New generation of unique rhamnosylated active ingredients for dermatological and hair care
Project leader: Dr Ulrich Rabausch, Faculty of Hamburg (Germany), GLYCONIC spin-off project of the Department of Microbiology & Biotechnology. Associate team: Dr. Friedericke Bönisch, M. Sc. of Molecular Biotechnology Constantin Ruprecht, Laurent Guyard In order to improve the efficacy and use of natural substances in cosmetic applications, GLYCONIC has deployed its small molecule rhamnosylation platform to develop a selection of unique polyphenolic rhamnosides. These new and original active cosmetic ingredients have high functional and biological properties regarding their bioactivity, stability, water solubility, biocompatibility and colour.
• New generation of antiperspirants
Project Lead: Kie Nakashima, PhD, Specially Appointed Researcher- Laboratory of Advanced Cosmetic Science, Graduate School of Pharmaceutical Science, Osaka University, Japan. Associate Team: Fundamental Research Institute, Mandom Corp., Japan - Department of Dermatology, Graduate School of Medicine, Osaka University, Japan - Division of Matrixome Research and Application, Institute for Protein Research, Osaka University, Japan - Department of Dermatology, Graduate School of Biomedical Sciences, Nagasaki University, Japan
Conventional plug-type antiperspirants lose their effect by easily removing sweat pores by the sweat itself. Therefore, antiperspirants that act directly on the sweat transfer mechanism are desirable. Here, we present an innovative live imaging system for the sweat glands to visualize the dynamic sweating mechanism. We believe that our system is a promising approach to developing a sweat regulation strategy. Indeed, we will present pharmacological candidates for functional antiperspirants.
Industrial Price
• SMART-PORE™, first artificial sweat pore for efficacy tests
Project leader: Fabrice Monti, CEO/Chief Executive Officer, MICROFACTORY Company (France, Paris)
Smart-Pore™ is the first transparent sweat pore that allows you to see and measure the impact of antiperspirants on sweat in real time. Smart-Pore™ is used today by large groups to determine the effectiveness of these formulations in a few hours compared to one month for the gravimetric method. In 2019, Microfactory developed a new concept by creating artificial skin layers on the surface of Smart-Pore™. This opens the door to new applications for testing the resistance of make-up to sweat and sebum as well as body care.
• New mechanism leading to tanning or skin depigmentation Project leader: Jean-François Pollet,CEO/ Chief Executive Officer, CHEMCOM (Belgium, Brussels)
Thanks to olfactory receptors, our nose can smell the volatile compounds present in the air. These sensory receptors are also expressed in other tissues such as the skin where they contribute to physiological processes. ChemCom has identified an olfactory receptor expressed in melanocytes whose modulation triggers a new mechanism leading to tanning or depigmentation of the skin.
• Cloud-based cosmetic product traceability solution
Project leader: Johan Wüthrich, founder of the company kaiosID (Switzerland, Lausanne)
kaiosID is a cloud-based product traceability solution. It enables brands to combat counterfeiting and grey market threats while building consumer confidence by integrating unique, invisible and random patterns into the product's packaging that can be decoded by smartphones. Unlike existing solutions, kaiosID has no impact on the product's visual appearance and its integration into production lines is easy and does not reduce productivity.
The two winners will be announced on June 6 in Paris.
FP
© 2019 - 2022 CosmeticOBS