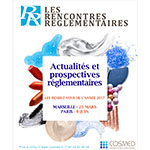 As every year, COSMED organizes a day dedicated to the French and European regulations of cosmetic products: Les Rencontres Réglementaires. This day of conferences will be held first in Marseille on Thursday 23 March 2017, then in Paris on Thursday 8 June 2017.
Reading time : ~ 5 minutes
COSMED News Release
This event allows all professionals in the sector to be informed on the latest regulatory news in the cosmetics sector, to exchange with regulatory authorities and experts. These Regulatory Meetings are aimed at company managers, creators, managers or regulatory affairs, R&D, formulators, toxicologists, quality engineers, marketers, responsible pharmacists.
The program
- Tasks and annual reports of the supervisory authorities
A presentation of the 2016 inspections detailing recurring non-conformities, control points and areas for improvement will be made by Manuela Boutillier, Cosmetics Inspector of the ANSM. . The 2017 inspection campaigns will also be announced.
- The basics of biocidal product regulation
This complex and different regulation of the cosmetic regulation will be presented Cécile Rousseau, Senior MRE Consultant.
- The regulatory framework for e-commerce, duty-free and mail-order sales
Although distance selling (e-commerce or mail order) has become more than just a trend (the 70 billion euro mark for online sales would have been exceeded in 2016 in France*), it remains a source of legal complexity and potentially negative consequences for manufacturers if regulations are not strictly respected. Sylvie Gallage-Alwis, Lawyer at the Court, of Hogan Lovells Paris LPP, ensures that these economically interesting and even unavoidable sales methods do not become a source of litigation, ...