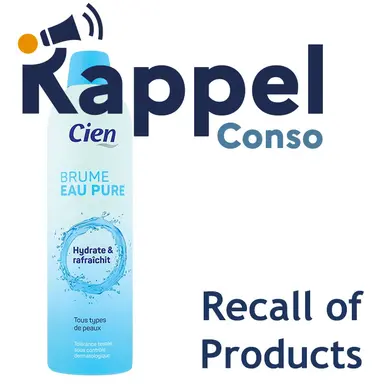 Rappel Conso has issued a recall notice for several batches of Cien brand Brume Eau Pure, potentially contaminated with germs.
Product name
Brume Eau Pure

Batch numbers
187060721 - 188070721
Recall's reason
Microbiological contamination of the above products cannot be excluded. In particular, the presence of the germs Ralstonia insidiosa and Burkholderia cepacia is possible.
These germs have the potential to cause respiratory diseases, especially in immunocompromised people or those with a medical history or predisposing factors.
Action to be taken
Do not use the product any more - Return the product to the point of sale - Contact the consumer service.
Contact number
+33 (0) 800 900 343
Compensation arrangements
Refund
IB
© 2021 - 2023 CosmeticOBS