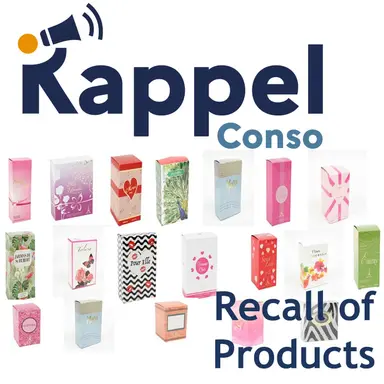 Rappel Conso has issued a recall notice for a number of products from nine different brands that contain two allergenic fragrances banned for use in cosmetics.
Products involved
Eaux de Toilette - Body lotions - Makeup removers - Fragrances - Hand creams - Shampoos
The full list of products [is available here].(@@LINK-64747@@).
Brands
Parfumerie Am Diffusion - Corania - Coscentra - Eau de Cologne Molygan - Eaux parfumées et Shampoing My Llama - AIR VAL International - Crème Myrel - Lait Corps Callibelle - Lotion Mr/Mrs
Batch numbers
• 3483214087697
• 3760004326359
• 3760004325178
• 3760004326281
• 3760004326571
• 3760004326588
• 3760004326458
• 3760004326243
• 3760004325666
• 3760004328032
• 3760004326076
• 3760004325703
• 3760004326427
• 3760004326298
• 3483214129021
• 3760004326472
• 3483214138429
• 3760004326151
• 3379509520591
• 3379508004283
• 3379508005280
• 3379509480598
• 3760004326670
• 3379509004640
• 3760004326762
• 3760004326663
• 3760004326366
• 3379509006637
• 8715658013020
• 3760004326823
• 3379509019248
• 8715658012948
• 8715658012955
• 8715658013129
• 8715658013044
• 3379500510485
• 8715658300274
• 8715658300298
• 8715658300311
• 8715658300335
• 8715658300359
• 8715658300373
• 3760004326847
• 3760004326861
• 8715658310549
• 8715658330004
• 3760004326106
• 3379501030623
• 3379501070650
• 123456789124
• 3224051116016
• 8715658013068
• 3379500630596
• 3379501760742
• 3760004326694
• 3760004321507
• 8715658310785
• 8715658310853
• 8715658321354
• 8715658321361
• 8715658321408
• 8715658321415
• 8715658321460
• 8715658310853
• 3760004321095
• 3760004323419
• 3760004323402
• 8411114081359
• 663350073256
• 663350073270
• 8411114081717
• 8411114085661
• 3483214406542
• 3760004323426
• 3760004323433
• 3379501750743
• 3379501710747
• 3379501920764
• 3379501710693
• 3470320200911
• 8719214751081
Geographical area of sale
All of France
Recall's reason
Presence of Hydroxyisohexyl 3-Cyclohexene Carboxaldehyde and/or Butylphenyl Methylpropional, undeclared allergenic substances prohibited for use in cosmetics in Europe
Action to be taken
Do not consume. Do not use the product again. Return the product to the point of sale.
Contact number: +33 (0)5 62 87 11 00
Compensation arrangements
Refund, exchange
IB
© 2022 - 2023 CosmeticOBS