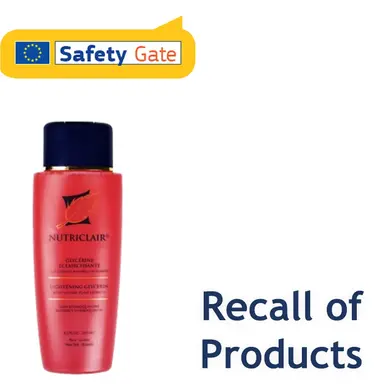 Every week, dedicated European portals (Safety Gate for the European Union, Safety Database for the United Kingdom) list the non-compliant and/or dangerous products detected on the market by the control authorities. Here are the cosmetic products that are subject to a recall or a marketing ban this week: a lightening product that contains an ingredient prohibited in cosmetics.
Lightening product
Brand: Nutriclair


Name: Glycérine éclaircissante aux extraits naturels de plantes - sans hydroquinone
Barcode: 5425024360018
Batch number : 1121
• Country of origin: Belgium
• Notifying country: France
Risk type: chemical
The product contains hydroxyisohexyl 3-cyclohexene carboxaldehyde, which is forbidden in cosmetic. It is skin sensitiser and triggers allergic reactions or contact dermatitis. The product does not comply with the Cosmetic Products Regulation.
Measures ordered by economic operators (to distributor): recall of the product from end users
Measures ordered by public authorities (to distributor): withdrawal of the product from the market
IB
© 2021- 2022 CosmeticOBS