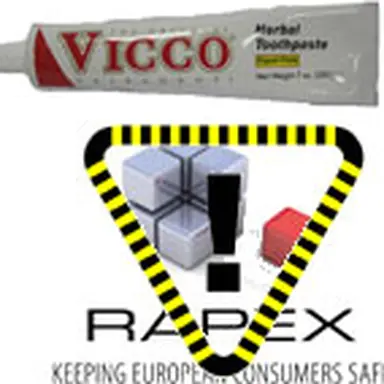 You may have them in your cupboards. Maybe, you use them, still. Beware: they are dangerous, illegal, harmful… and are the subject of a recall or ban by the European sanitary authorities. Underneath, you may find all the cosmetic products targeted by the RAPEX alert system this week: a toothpaste containing bacteria.
The Original Vicco Vajradanti Herbal Toothpaste

Brand : VICCO

• Batch number : D41200691
• Barcode : 8901288012001
• Best-before date : 11/2017
Country of origin : India
Notifying country : Portugal
Danger : The product poses a microbiological risk. The total count of aerobic mesophilic bacteria in the toothpaste is too high (measured value up to 187500 cfu/g), and mould and yeast has been detected (measured value 3000 cfu/g). There is a risk of contracting infections as the solution may come in contact with the mouth, hands and eyes. The product does not comply with the Cosmetic Product Regulation.
Measures adopted: Withdrawal of the product from the market
© CosmeticOBS-L'Observatoire des Cosmétiques
© 2017 - 2023 CosmeticOBS