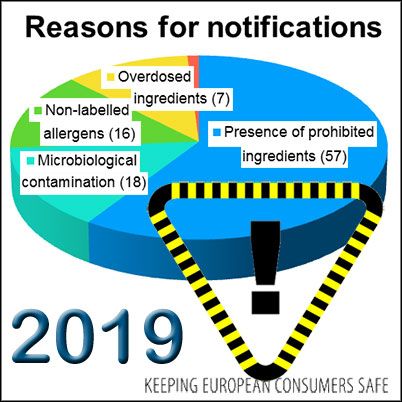 Every week, the RAPEX (European system for the rapid exchange of information on dangerous products) system publishes notifications of urgent measures taken by EU Member States to prevent, restrict or impose conditions on the marketing of products due to the serious and immediate danger they pose to the health and safety of consumers. Which types of cosmetics are most targeted by these measures? What are the reasons most often given for them? One year of RAPEX in review…
Reading time : ~ 2 minutes
51 weekly reports annually detail consumer products subject to withdrawal, recall or prohibition of marketing.
In 2019, 96 cosmetic products, sold in shops or on the Internet, from 27 European and third countries, were subject to such measures. And if many of the countries concerned have been targeted by only one notification (South Africa, Austria, Brazil, Bulgaria, Ivory Coast, Denmark, Estonia, Lebanon, Morocco, Democratic Republic of Congo, Czech Republic, Slovenia), others are much more regulars, such as China, which alone sent nearly 18% of the products reported as dangerous to Europe.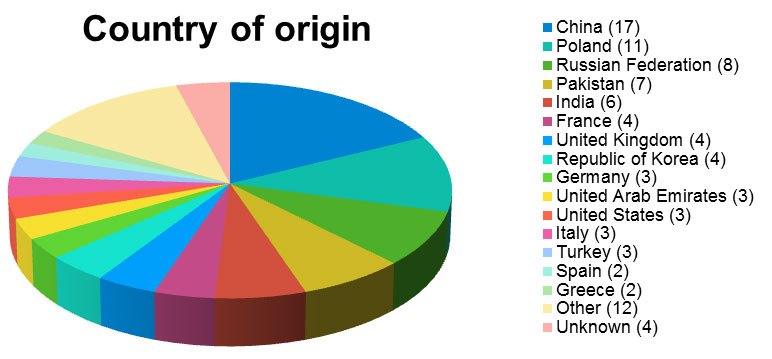 Not all types of products are affected at the same level. For example, skin lightening products, perfumes, body care and hair dyes alone account for more than half of the notifications for cosmetics (56.23%).
Almost 60% of notifications are justified by the presence of prohibited ingredients, but 18.75% are also due to microbiological contamination .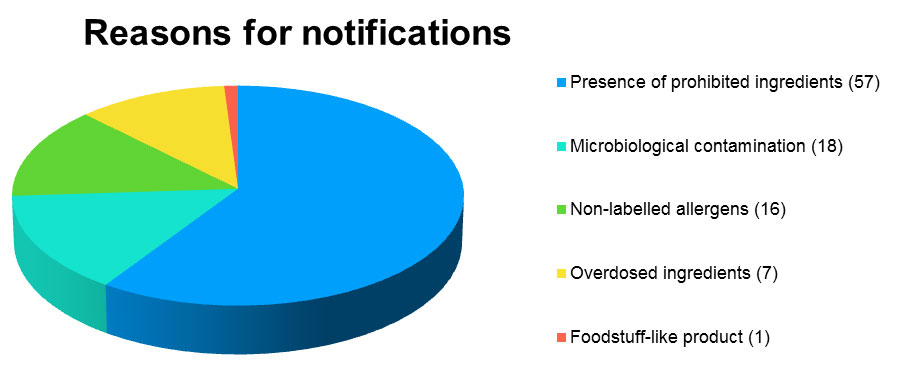 Top among the prohibited ingredients is the mixture Methylisothiazolinone / Methylchloroisothiazolinone in washing gels or leave-in products, or the presence of heavy metals, especially in make-up. Drug substances have also been detected in eyelash growth products, hydroquinone in skin lightening products and formaldehyde in hair care products .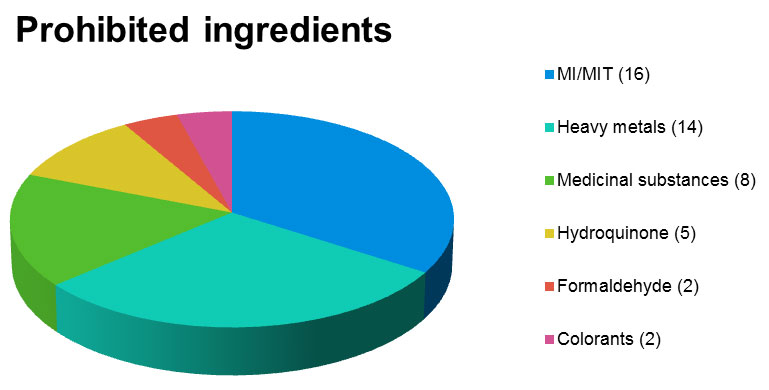 Source
• Safety Gate: Rapid Alert System for dangerous non-food products, Weekly Reports 2019, European ...