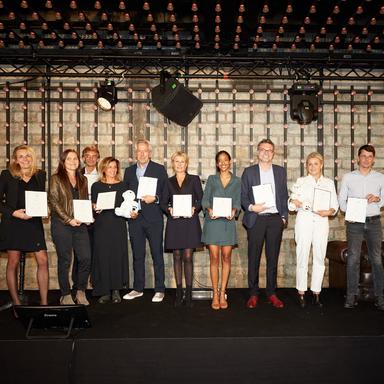 For the past eight years, the CEW France network has been rewarding professionals in the beauty sector at the Achiever Awards. An opportunity to salute the careers of established creators or to encourage the initiatives of new cosmetic talents. This ceremony was held in Paris, at Le Faust, on 14 October 2019.
The cosmetics industry is more than competitive. But CEW France's ambition is to make people forget this competition, to bring together all the players in the beauty industry, to unite them and allow them to share their experiences for an evening.
Nine prizes were awarded, here are the winners.
Graine d'Achiever: the very young growth that promises.
Astrid Mauduit - Ouate Paris
Deliciously regressive, this brand for children is on the take-off ramp. Designed for children aged 4 to 11, Ouate Paris meets the needs of the youngest by offering gentle care and packa gings adapted to their motor skills.
Achiever Entrepreneur: an entrepreneurial adventure that has recently launched itself and succeeded in reaching certain stages of development.
Claire Auzouy and Pascale Gal - Les Huilettes
For the past few months, the cosmetics scene has only been concerned with Les Huilettes. Already a winner of the Cosmébio 2019 Trophies, this brand based on vegetable and essential oils is part of an organic and eco-responsible approach.
Achiever Success Story: salutes an emblematic and inspiring career.
Saveria Coste - Laboratoire Garancia
You'll take a little snake venom back into your moisturizer, won't you? Playing on a magical imagination, Garancia charms consumers. Savéria Coste, a pharmacist by training, wanted to launch into cosmetics in order to offer effective and innovative treatments with an offbeat tone.
Achiever Carrière: the success of an intra-company career path.
Arnaud Meysselle - Ren Clean Skincare
Having only been at the helm of Ren for two years, this former "L'Oréalien" gave him a boost.
Fiercely committed to the planet, Arnaud Meysselle has breathed into the brand a spirit of naturalness and respect for the environment.
Achiever Créateur: the talent of a beauty artist, an innovative and noticed creativity in the world of beauty.
Francis Kurkdjian - Francis Kurkdjian House
After having shaken up the world of perfumery at only 25 years of age by creating Jean Paul Gaultier's iconic Male, Francis Kurkdjian has had a series of successes. He decided to found his own company in 2008 but continued to collaborate with major brands.
Achiever Entrepreneur: the career path of a company manager who has developed a company whose ideas and activities advance the business.
Boris Gratini & Lilian Monnier - Nailmatic
Who has never been intrigued by Nailmatic varnish dispensers? An original idea that has enabled these products to win the hearts of women consumers.
Over time, the brand has affirmed its desire to turn towards more naturalness (which is not easy when making varnish, given the very nature of the product).
Nailmatic has also thought of the younger ones and offers water-based formulas.
Achiever Innovation: the one who has launched an action or a company whose concept brings a real wind of innovation.
Jean-Yves Berthon - Greentech
An expert in biotechnology, Jean-Yves Berthon knows how to take advantage of natural resources to offer brands environmentally friendly and innovative active ingredients.
Achiever Initiative Solidaire: the one who, through an association or a company, gives meaning to beauty.
Helena Mendès - Mawena
It was while travelling to Mexico that Helena Mendès la Mimosa Tenuiflora, a bark, was born. Back in France, she discovered its virtues and decided to start working in cosmetics.
The brand is still very young, but it already has everything of a great size, including in terms of commitment.
Mawena donates two euros per sale to an association that fights to improve the living conditions of Mayan women.
Achiever Engagement RSE: the one whose action gives meaning to beauty.
Isabelle Guyomard - Ozalys
After suffering from breast cancer, Isabelle Guyomard developed a cosmetics brand for sick women.
Formulas designed to soothe these skin weakened by treatments that are sometimes too aggressive.
Ozalys' commitment is also expressed in the social and environmental responsibility of the CCI Productions group, of which the Ozalys laboratory is a member.
JS
© 2019- 2021 CosmeticOBS