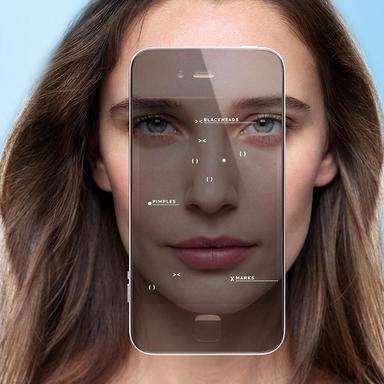 Acne is one of the most common skin disorders in France. Nearly 3.3 million people have it. To help them analyze the state of their skin and encourage them to take care of it, La Roche Posay has developed a mobile and free application.
It took two years of research at La Roche-Posay to develop Effaclar Spotscan.
It is an application accessible to everyone from the brand's website. The goal is to take a picture of yourself with the front camera (note that it is imperative to have a smartphone) from three angles (face, right and left side).
The artificial intelligence behind Effaclar Spotscan then analyzes the photos and delivers a score between 0 and 4+, allowing you to judge the condition of the skin and the severity of your acne.
"Users who are assigned a score of 2 or more are encouraged to consult a dermatologist. The algorithm suggests, according to each person's profile, an Effaclar routine, tips for taking care of their skin, and then allows them to visualize the progress made on a daily basis," explains the brand.
This skin scan was developed in collaboration with dermatologists who were asked to analyze more than 6,000 images of men and women representing a wide range of skin types and degrees of imperfection severity. The aim is to be able to offer a real and useful tool to people suffering from skin problems.
Sophie Seite, Scientific Director of La Roche-Posay, reveals that "the creation of Effaclar Spotscan is the result of a titanic work. In the space of two years, we have worked on six versions of the algorithm built from more than 6000 photos obtained with the help of four dermatologists and three clinical research organizations. Our efforts have resulted in a particularly accurate and reliable application to help users correctly assess their acne and track the results obtained with their treatment."
In practice, the application is very easy to use. All you need is enough brightness to take the pictures.
The analysis is fast, rather reliable and close to what you see on your face.
In addition, Effaclar Spotscan has a simulator that allows you to see the condition of your skin if you correctly follow the advice and treatments provided by the application: enough to motivate the less rigorous.
Acne and its ravages
This skin disease, induced by the bacteria Propionibacterium Acnes, affects 3.3 million French people over 15 years of age. Acne is not just a "teenage passage" since a considerable number of adults have it.
Already in 2017, the French Society of Dermatology alerted on the impact of skin diseases (including acne) psychological, societal, economic, as well as their impact on the professional and leisure lives of people affected.
Today, La Roche Posay makes the same observation and the figures speak for themselves: • 80% of teens and 40% of adults report that they are affected by the psychological effects that acne can have
• 71% lose self-confidence or become more shy
• 43% have difficulty seducing
• 24% have difficulty making friends
• 21% have difficulties at school
• 80% suffer from several annual recurrences • 46% report a recurrence of their acne
Faced with such data, it is important to find quick and viable solutions to alleviate the daily lives of this segment of the population.
The latest observation is that in France, only two out of three acne patients go for a consultation and the prescribed treatments are respected by less than one out of two patients. Hence the interest, for this brand of the L'Oréal group, to establish a strong foothold in this market, with this application to help and encourage the proper monitoring of its skin (although it does not replace the expertise of a dermatologist when necessary), and to direct towards its care routines.
JS
© 2019- 2022 CosmeticOBS