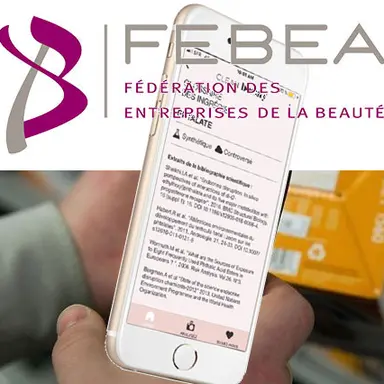 New episode in the debate on the relevance of cosmetic applications proposing to decipher ingredient lists: Candice Colin and Dr Claire Gagliolo, co-creators of the Clean Beauty application, denounce the "amalgams" contained in the FEBEA press release calling for "transparency and scientific rigour"*.
Clean Beauty's press release
Clean Beauty's reaction to the FEBEA communication of 19 October on the decoding applications of cosmetic ingredients: Candice Colin and Dr Claire Gagliolo, co-creators of Clean Beauty, denounce the amalgams contained in this communiqué and claim instead the greatest transparency and scientific rigour in their work.
In a context of questioning the real safety of a certain number of cosmetic ingredients by the scientific community and the French public authorities, Clean Beauty is today the only mobile application that does not rate products but allows the identification of controversial ingredients in cosmetics on the basis of the international scientific bibliography thanks to a simple photo of the list of ingredients (no bar code scanning referring to a product database).
Clean Beauty stands out clearly from all other available applications.
• Clean Beauty was developed by a team of scientists led by a Doctor of Cosmetology Pharmacy according to a rigorous methodology.
• Clean Beauty provides for each identified controversial ingredient the entire scientific bibliography.
• Clean Beauty has chosen not to evaluate or rate the products. Clean Beauty only provides scientifically documented information on controversial ingredients in the scientific community.
• Clean Beauty does not refer to any product database. There can therefore be no error in the composition. The ingredient lists are always up to date.
The reality of controversial ingredients in cosmetics
While the European Cosmetics Regulation is now the most stringent cosmetics regulation in the world, it excludes each year some ingredients that were in the regulatory sense of the term considered quite safe a few weeks before their prohibition.
Generally speaking, a number of components commonly used in cosmetics are now being questioned by part of the scientific community, particularly because of their cumulative and cocktail effects. Because in addition to their use by the beauty industry, some of these ingredients are also present in many everyday products - food, cleaning products, plastics…. - strengthening their potential impact on health. They add up, accumulate (cumulative effects) or aggregate to multiply their effects (cocktail effects).
Last April, the Ministry of Health took a further step forward in the new edition of the Health Notebooks by recommending that young parents do not use cosmetics for themselves and their babies during the first months of their child's life. "It is regrettable that the doubt is cast on the whole industry, but it shows at the very least that the public authorities are concerned about the situation," Candice Colin explains.
FP
© 2018- 2022 CosmeticOBS
---
Associated elements(1)