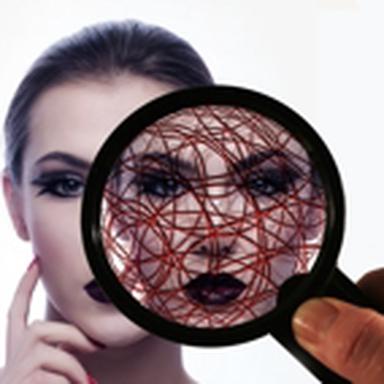 The era of compulsive cosmetics consumption is over. In parallel to the customizable cosmetics trend, another concept is emerging as fast as ever: skin diagnosis. Ideal to determine your skin profile, it is becoming more and more democratic. Here is a short overview of the different tools available to screen your face.
The term 'diagnosis' refers to the definition of the epidermis type and characteristics. Dehydrated, sensitive, combination, oily, or even normal… these are all designations attributed to the skin.
If you are familiar with your skin's condition, you can better target the skincare to provide it with.
Online evaluation
For a first try in the world of skin evaluation, it is definitely possible to go online and fill in a questionnaire.
Many cosmetics brands like Vichy, Avène, État Pur, or Dr Hauschka provide this service for free on their e-shops.
They set up a form to make an update on the main skin concerns. In most cases, they tackle general themes like the skin's comfort sensations, the matte aspect, and the appearance of wrinkles and pigment spots. The user can choose between several answers.
Once the form has been filled in, the verdict is announced.
Of course, it is convenient to get a few tips and details on your skin condition, to start with. But this type of 'online consultation' does have limits. Indeed, you should be able to describe your skin as accurately as possible, and all 'situations' (no pun intended!) are not necessarily taken into account.
Connected solutions
Technology and beauty get on well when it comes to skin analysis. Several devices were developed to help decipher the skin condition, including in depth. They can screen the skin, so they do establish a more detailed diagnosis than a questionnaire filled in online.
If admiring its activity is a pleasant activity, getting an update on your epidermis is even more so.
Hi Mirror is a mirror fitted with a camera which analyzes the appearance of wrinkles, pigment spots, pimples, blackheads, dark circles, bags, but also the skin texture, its firmness and radiance. Hi Mirror actually provides tips to take care of your skin and offers a daily follow-up.
To get such expertise at home, you will need to spend the sizeable amount of €359.
Here is a message to the selfie addicts that only swear by their smartphones: a small camera to be clipped on your phone can help you find out about your skin profile.
Just take a picture of you to get an in-depth analysis. It is all there: wrinkles, blackheads, skin dryness.
Several companies market these cameras, like losLabs and Nurugo.
The price starts from about a hundred dollars.
Less efficient, but free: the YouCamMakeup app has developed a skin diagnosis module.
Same principle, just take a picture of you to get information on your skin. The application gives an average out of 100 (the closer from 100 you are, the healthier your skin is) and focuses on wrinkles, bags, dilated pores, and imperfections.
You can write a 'skin diary' – it is ideal to follow up changes in the long term.
Skin diagnosis is a real beauty trend right now. It is on a roll and tends to become as accurate and convenient as possible. You will no longer need to wait for an appointment with a dermatologist to know what your skin needs.
As a reminder, your skin and its needs change over time, so it might be wise to analyze it several times a year to best adapt your beauty routine.
© CosmeticOBS-L'Observatoire des Cosmétiques
© 2018- 2022 CosmeticOBS