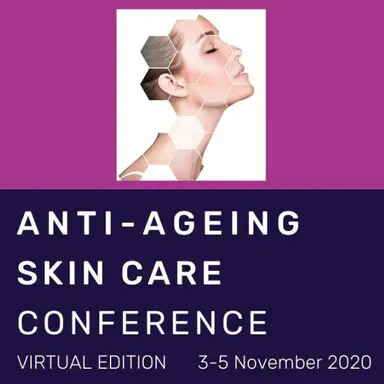 The Anti-Ageing Skin Care Conference has been held every two years since 2008. The event is designed for professionals who wish to have an in-depth and up-to-date view of the latest market and technology developments in anti-ageing cosmetics. The 7th edition will take place virtually from 3 to 5 November 2020.
This year's event will take a holistic look at skin ageing, exploring the skin microbiome, skin health, and its possible impact on skin ageing.
Programme sessions will cover:
• Internal and external influences in skin ageing
• Technologies and new concepts for improving & protecting ageing skin
• Consumer expectations, benefits and claims
• Measuring anti-ageing skin care benefits and supporting claims
Host to a full programme of renowned expert speakers and academics from around the globe, the tried and tested virtual event platform will provide a highly engaging and informative digital event with interactive speaker keynotes, Q&As and networking opportunities that approach the serendipity of a live event.
Among the speakers:
• Professor Patrick Bonnet from the UK National Innovation Centre for Ageing, will give his vision of innovation for an ageing society
• Professor Mark BirchMachin from Newcastle University in UK, will address the relationships between nutritional status, antioxidants, bioenergy and interventions on human skin ageing
• Dr Damilola Fajuyigbe from L'Oréal France, will talk about facial ageing in black skins
• Professor Andrew McBain from Manchester University, explore the microbiome and skin ageing, including what is known and what is not yet known, and the potential role that probiotics and postbiotics can play
"The Anti-ageing Skin Care Conference will be host to presentations and discussions on some of the most controversial topics currently in ageing skin care, including the importance of the skin microbiome to skin health and ageing, digital technologies in monitoring skin status and product benefits and the holistic approach to skin health and beauty. We will also have the opportunity to discuss with experts in their field and readily video-link network with other delegates," Jack Ferguson, Scientific Programme Director, said.
LW
© 2020 - 2022 CosmeticOBS