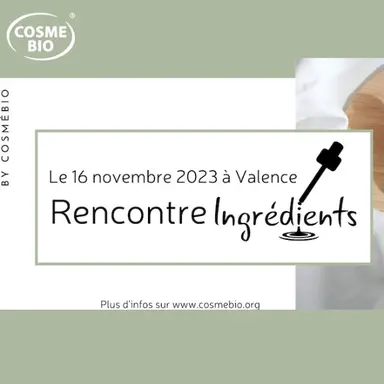 On 16 November 2023, Cosmebio, the natural and organic cosmetics association, is holding its traditional Ingredients Meeting in Valence (France). With an exhibition and a day of conferences, the aim is to provide a showcase for ingredients from suppliers of all sizes and positions, and to highlight the latest developments in the field.
Consumers are increasingly concerned about the quality of the ingredients and manufacturing processes used in their cosmetic products. Brands are aware of this issue and are constantly looking for "natural" or "organic" ingredients to offer their customers new products.
Cosmébio's Ingredients Meeting aims to:
• Develop the range of ingredients that can be used in COSMOS-certified formulas
• Enable ingredient suppliers to present their innovations
• Identify areas for progress and gaps in terms of new ingredients that can be used in organic cosmetics.
A number of topics will be addressed during the day, including:
• Alternatives to Annex V of the COSMOS standard
• Ingredients for eco-responsible formulations (carbon footprint, geographical origin of ingredients, traceability)
FP
© 2023 CosmeticOBS