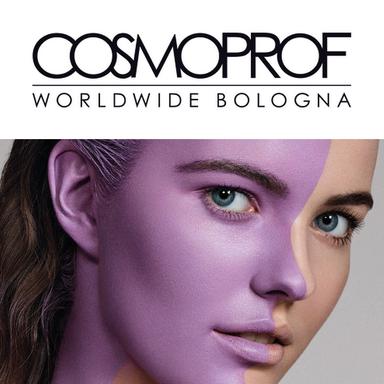 Cosmoprof Worldwide Bologna is the leading trade show globally bringing together all areas of the beauty industry, from raw materials to the finished product. The show offers personalized services able to meet different business needs thanks to the fact that it is divided into three different salons, has highly targeted visitors, and because it organizes initiatives that involve key players from the world of beauty. The 2019 show is focusing on the theme of sustainability, with initiatives aimed at highlighting Cosmoprof's commitment to bringing much more sustainability to the entire event.
From14 to 18 March, Cosmoprof 2019 will bring together more than 2,900 exhibitors, in three different salons dedicated to specific industries and distribution channels, , with each show opening and closing on different dates in order to facilitate the flow of visitor traffic and make the most of opportunities for networking and doing business.
1 fair, 3 shows
• Cosmopack – 14-17 March
It is the most important international show dedicated to the cosmetics supply chain and all of its various components: ingredients and raw materials, contract and private label manufacturing, packaging, applicators, machinery, automation and full-service solutions.
• COSMO Perfumery & Cosmetics – 14-17 March
It is the international show with an optimized layout for buyers, distributors and companies interested in what is new in the world of fragrance and cosmetics as pertains to the retail channel. This show features a selection of the best cosmetics brands in the world able to meet the needs of an ever more sophisticated distribution industry that is undergoing change.
• COSMO Hair, Nail & Beauty Salon – 15-18 March
It is the international show with a optimized layout for distributors, owners and professionals from beauty centers, wellness centers, spas, hair salons and hotels. There is a wide selection of goods from the best suppliers of products, equipment, furnishings and services meant for the professional world of hair, nails and beauty salons/spas.
Event & Educational program
Cosmoprof Worldwide Bologna is the place where the entire focus is on trends, innovation and excellence. There are many events and educational sessions able to offer up important ideas and inspirations for the entire beauty industry.
• Cosmotalks
Cosmotalks is Cosmoprof Worldwide Bologna's conference format that combines creativity, inspiration and business. With more than 30 seminars and workshops, it aims to be the widest ranging series of conferences and in-depth talks in the beauty industry.
• Cosmoprof on stage
This is the main stage dedicated to live demonstrations and training sessions for professionals. Make-up, beauty treatments, massage techniques and educational nail training. This is where all of the trends come to life!
• Hair Ring
Cosmoprof Worldwide Bologna, in collaboration with Camera Italiana dell'Acconciatura, presents Hair Ring, The showcase on young talents from the world of hairstyle and make up.
• Barber Show
After the highly successful previous edition, with more than 5,000 barbers from all over the world, this year, once again, the spotlight at Cosmoprof will be on worldwide barber techniques. And there's something new for 2019: a dedicated pavilion, number 35.
FP
© 2019- 2021 CosmeticOBS