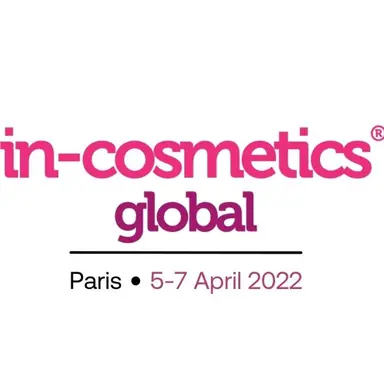 After two years of absence and multiple postponements, in-cosmetics Global will finally take place in Paris, from April 5 to 7, 2022. As usual, exhibitors can participate in the award ceremonies organized for the occasion. And it seems that ingredient suppliers have innovations to present since nearly 180 applications were submitted. 50 were selected… for only four awards.
The organizers of in-cosmetics Global have announced the list of finalists for the 2022 awards. "These awards highlight the latest ingredient innovations that combine pioneering science and product features in a way that demonstrates substantial benefits to manufacturers and end users over existing ingredients."
Here is the list of nominees.
Innovation Zone Category - Active
• Chromazone™ from Normactive
• Skin'calm from Berkem
• Sphinox® Defenda from Evonik Operations Gmbh
• Suga®Det Lsdg from Colonial Chemical Inc
• Wastar™Pink Berry from Iff - Lucas Meyer Cosmetics
• Adenosilane from Exsymol
• Aquaboost Natco from Expressions Parfumées
• Iselight from Chemyunion
• Patchoul'up™ from Givaudan Active Beauty
• Restart Pro from Chemyunion
• Solastemis from Gattefossé
• Symhair® Thermo from Symrise Ag
• Telessence Breeztel™ from Lipotrue
• Telophi™Biotech Ingredient from Lubrizol
• Vitamin B12 Cryst from Dsm Nutritional Products Europe
Innovation Zone Category - Functional
• Deepercaps™ from Tagra Biotechnologies
• Estogel® Green from Polymerexpert
• Hydrolite®7 Green from Symrise
• Micromica Mk-100K-C from Nagase Personal Care
• Natrathix™Bio Cellulose from Ashland
• Pempur™Start Polymer from Lubrizol Life Science
• Permeacell from Cellicon Lab Inc
• Rublaleaf™Kcx-5000 from Nagase Personal Care
• Dowsil™979 Emulsion from Dow
• Permeacell from Cellicon Lab In
• Reflecks ™Md Midnight from Sun Chemical
• Sensocel®+ from Cff Gmbh & Co.Kg
• Tegosoft®Lo Mb from Evonik Operations Gmbh
Green Ingredient Category
• Biopolymer Hydal PHA from Nafigate Corporation
• Ethicskin™ from Provital
• Melanogray™ from Mibelle Biochemistry
• Phytocollagen from Lipoid Kosmetik AG
• Pyr'O from Biolie
• Alpin Heilmoor Extract (AHE) from Premium Organic
• Biocoalgae O3 from Bicosme
• Chromazone™ from Normactive
• Granpowder BBP-700 from Grant Industries
• Plukenetia huayllabambana Seed Oil from CloudForest Peru
• Resulook™ advanced botanical ingredient from Lipotec Active Ingredients
Rising Star Category
Unlike the other awards, this one does not recognize an ingredient but an up-and-coming, innovative company.
• Cellicon Lab Inc
• Evercare
• Jinyoungbio Co
• Microphyt
• Nafigate Corporation
• Oriel Marine Magnesium Extracts
• Sumitomo Pharma Food & Chemical
• Tagra Biotechnologies
• Uute Scientific Oy
The winners will be announced at the time of the exhibition in Paris. They will be presented with their trophy at their booth.
IB
© 2022 - 2023 CosmeticOBS