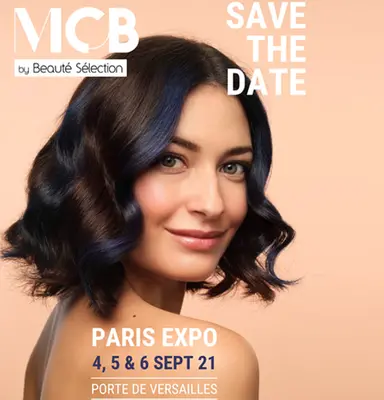 The MCB by Beauté Sélection, the leading event in the hair and beauty industry, will be held this year at the Parc des Expositions de la Porte de Versailles, from September 4 to 6, 2021. Three days of exhibition dedicated to the latest innovations of the sector.
MCB by Beauté Sélection is one of the most important events in the beauty industry.
"Each year, it allows professionals to connect with new customer segments and to take stock of innovations and trends in the world of hairdressing and beauty (esthetics, make-up and nails)," explains the organizing team. "Visitors can thus identify the new issues, needs and aspirations that make their profession evolve, in order to prepare themselves now for the challenges of the future of beauty, in 2021 and beyond. This is all the more important as their environment becomes increasingly competitive.
The show will be structured around four main areas.
360° stage
This 5 x 5 meter stage, open on 360°, will present international and French trends.
Brand stage
This stage will be entirely dedicated to technical workshops and demonstrations for and by the brands present.
Hand Stage
This is where more than 12 hours of high fashion hairstyling shows will take place, presented by the most prestigious brands in the sector.
Conference area
An area reserved for conferences and round tables, with targeted themes such as business development, the crisis and new opportunities or international trends and innovations.
IB
© 2021- 2022 CosmeticOBS