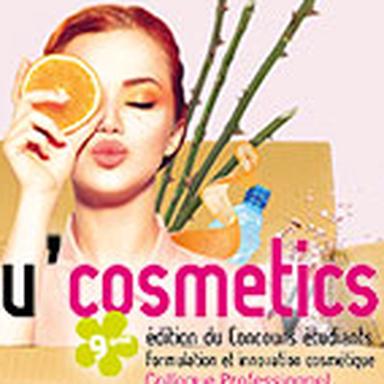 On Thursday 15 March 2018 in Guingamp, U'Cosmetics, a student competition and professional conference, invites you to come and discover the world of up-cycling: this trend which consists in recycling by-products, unused biomass, co-products… The day is organized around seven conferences and will end with the student competition awards.
For its 9th edition, U'Cosmetics is focusing its professional conference on the world of up-cycling. Up-cycling is the action of recovering materials or products that are no longer used in order to transform them into personalized and innovative products. It is recycling"from the top", a concept that combines environmental benefit and innovation. Seven conferences and a round table will enable professionals to discuss the subject.
The conferences
The interventions will take place on U'Cosmetics Day, March 15.
Up cycling, the production method of the future - Anne Chaumont, Up-Cycling France
Co-products, the new sourcing standard - Julien Lesage, GMR
Are you ready to create a positive world? - Christine Guinebretiere, EPEA, Cradle To Cradle
When cosmetic innovation adds value to by-products from the food industry - Armelle Le Peniec, Expanscience
Up Cycling, active ingredients designed differently: original extracts, malt secret, gatuline - Sébastien Mendes, Gattefossé
Eco-valorization of a plant by the principle of biorefinery - Alexandra Jeanneau and Jean-Marc Seigneuret, Alban Muller
Promoting industrial co-products in high-performance packaging: the BluEcoPHA project - Blandine Lagain, Breizpack
The competition
The selection of the ten finalist student teams took place on February 8, 2018 by a jury composed of 12 professionals from the cosmetics industry: - Stéphane Poigny, R&D Manager and President of the jury of this 9th edition - Pierre Fabre - Jean-Claude Le Joliff, Director - INN2C - Jean-Guillaume Giraudon, Sales Director - Lipoid - Charlène Moriceau, R&D Project Manager - Science & Nature - Laëtitia Tetedoux, Marketing - Ttdo Marketing - Élodie Fessy, Sales Manager - Greentech - Roland Conanec, Project Manager - CBB Development - Sylvain-Romain Cotte, Director of Regulatory Affairs - Yves Rocher - Yves Le Guen, Consultant - Inabata pharmasynthese - Laurence Wittner, Journalist - Observatoire des Cosmétiques - Olivier Paquatte, Technical Development Manager - Safic alcan - Laure Herel, R&D Manager - Laino (Drummer Group)
Projects could fall into one of the two categories of the competition: - Innovation Formulation: two projects will be awarded in this category; - Innovative concept: one project will be awarded in this category. A project will also be rewarded with the"Coup de Cœur" prize, awarded by the contest organizers.
© 2018- 2021 CosmeticOBS