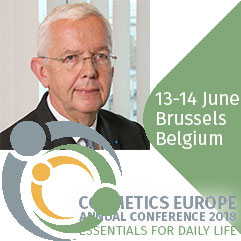 Loïc Armand, President of Cosmetics Europe, gave CosmeticOBS an interview at the Cosmetics Europe Annual Conference held in Brussels on June 13-14, 2018. On the agenda: the cases that seem blocked in Brussels, regulatory convergence… which has not been built up yet, but already needs to be defended, the relevance of the Cosmetics Regulation five years after it came into force, and a call for everyone to take their own responsibilities in the form of a protest…
Reading time : ~ 16 minutes
Laurence Wittner: Several caseloads (CMRs, nanomaterials, endocrine disruptors…) which draw particular media attention and raise concerns among consumers seem to be on hold. And the European Commission appears powerless in terms of producing the regulations that would end the debate. How does the industry perceive the situation?
Loïc Armand: First, I feel that the Commission is not that much behind; rather that they are trying to do things as best they can. We just cannot accuse the Commission of not doing 'Better Regulation', and at the same time ask them to regulate just about everything under the pressure of circumstances.
As regards CMRs, the Commission has been working on a consensus on the level of the Member States. And if the consensus is not reached, it will not be able to publish any new regulation. The fact that they are working actually reflects how serious they are when they tackle the various issues and it does not mean they ignore the need to provide regulations.
The second point I would like to highlight is that we should recognize our industry's long experience as regards product safety for consumers and attitude in terms of highly proactive sustainability. I understand perfectly ...