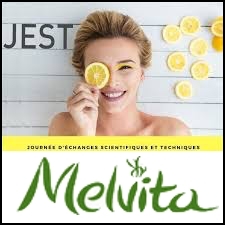 Some raw materials used in cosmetic products are victims of a real witch hunt, rightly or wrongly. This crisis of confidence is forcing the industry to review its formulation methods and turn to more naturalness. During the JEST 2019, organized by Cosmed on September 27th in Montpellier, Sabrina Pappatico, development manager at Melvita, shared some of the brand's laboratory secrets.
Reading time : ~ 9 minutes
"Consumers are increasingly interested in the composition of cosmetic products. They want to have greener skincare and are hunting down controversial raw materials," Sabrina Pappatico started. "The M&L company, of which Melvita is a part, was founded in 1976 by Olivier Baussan. Today, it is an international company that manufactures and markets cosmetics based on natural and organic ingredients. It owns six brands, is present in 90 countries and employs more than 9,000 people."
In terms of eco-responsibility, M&L is an activist group. Among other things, it:
• Respects biodiversity through ethical sourcing
• Works with 98 producers to establish sustainable and traceable supply chains
• Reduces its waste to reduce its environmental impact
• Integrates recycled materials and offers rechargeable packaging
"We are also committed to a constant process of improving our formulas," added Sabrina Pappatico. "We have set ourselves the objective of designing formulas with 95% natural ingredients for our future launches. We only use RSPO palm oil, although we limit its use. We prefer short INCIs, with few ingredients."
Due to its BIO certification and its membership in Cosmébio, Melvita has banned:
• Silicones
• Mineral oils
• Synthetic gelling agents
• Aluminium salts
• Synthetic dyes
• Chemical sunscreens
"We are going even further as ...