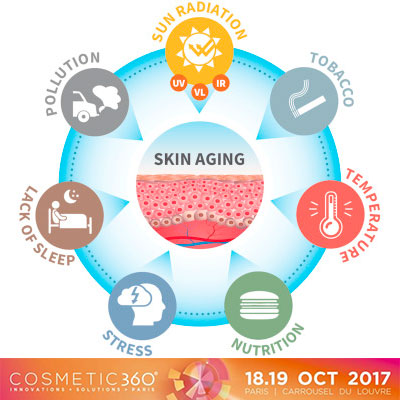 Though it is quite a recent concept, the exposome is about to revolutionize the cosmetics anti-aging approach. At least, that is what Pr. Jean Krutmann, of IUF (Leibniz Research Institute for Environmental Medicine), believes: as an expert in this field, he explained the different aspects of the exposome at the Cosmetic 360 show. And at the same conference, Aïna Queiroz, of ID bio, introduced the solutions developed by her company to counter its effects on the skin.
Reading time : ~ 13 minutes
The concept of the exposome was introduced in 2005 by Pr. Christopher Wild, Director of IARC (International Agency for Research on Cancer), with this definition: 'the totality of all exposures an individual is subjected from conception to death'.
'This definition refers to all the exposures to non-genetic factors throughout life,' Jean Krutmann explained. 'That is particularly important as regards aging, because this phenomenon is not only triggered by genetic factors: it is estimated that genes only account for 25% of what determines longevity. And if we can hardly have any impact on these intrinsic causes, the extrinsic causes to aging can be modified.'
The skin aging exposome
There have not been many publications on the exposome in the scientific literature yet, which, to Jean Krutmann, is quite surprising when you think about the importance of the skin as a barrier organ, of non-genetic factors in skin aging, and of the impact of skin aging on the other organs.
In 2016, Jean Krutmann and his team published an article in the Journal of Dermatological Science to suggest a definition for the concept of 'skin aging exposome'. To the researchers, 'the skin aging exposome consists of external and internal factors and their interactions, affecting a human ...